Razorbacks top Aggies to close regular season
Published: Sunday, February 26, 2023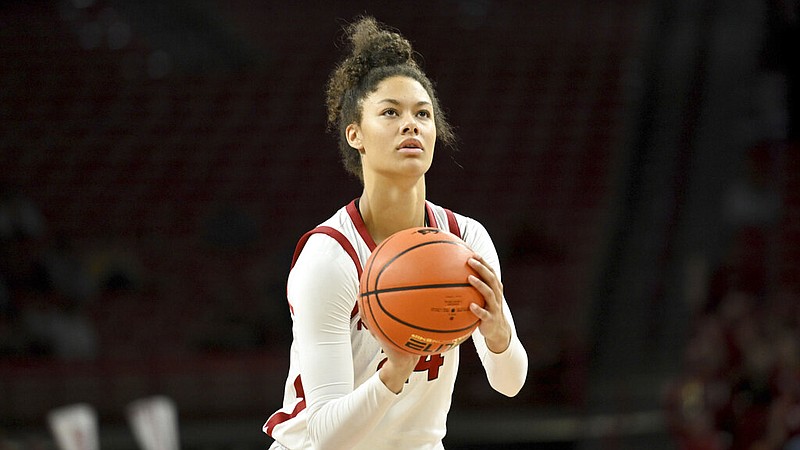 Arkansas guard Jersey Wolfenbarger (24) shoots a free throw at Walton Arena in Fayetteville in this Dec. 29, 2022 file photo. (AP/Michael Woods)
FAYETTEVILLE — On the NCAA Tournament bubble and searching for momentum entering postseason play, Mike Neighbors and the Arkansas women's basketball team manufactured some Sunday to end the regular season.
The Razorbacks (20-11, 7-9 SEC) took the lead over Texas A&M one minute into the game and held it throughout, winning a convincing 78-65 decision on Senior Day at Bud Walton Arena.
Arkansas matched its 7-9 mark in conference play from last season and will begin its conference tournament stay Thursday against Missouri in Greenville, S.C. It will be déjà vu for the Razorbacks, who also faced the Tigers in an 8/9-seed game to open the tournament in 2022.
The winner will face top-ranked South Carolina.
"As bad as losing hurts, winning doesn't trump it, but it feels a lot better," Neighbors said. "I'm just happy for our kids to be able to finish 7-9, right where we did last year, and build the same momentum that we had going into the SEC Tournament.
"Same team, same opponents, eerily similar. But I'm just really happy for them."
Neighbors added that he hopes his team will carry the strong performance into the postseason and play its way into an NCAA Tournament at-large bid.
"There's crazy things happening around the bubble," said Neighbors, indicating his team is better than recent losses have shown. "All we can do is control what we can control. And we said, 'Let's go out with a win here and go to the SEC Tournament and build a little momentum and give people a chance to see that we're not always going to go 3-for-34 from the three-point line.'
"And when we play like this, then we give [the NCAA Tournament selection committee] some ammunition to go in that room and talk about."
Jersey Wolfenbarger entered off the bench late in the first quarter and immediately gave the Razorbacks a lift. The sophomore from Fort Smith scored seven straight points over a two-minute stretch to put Arkansas ahead 20-10 entering the second period.
"I think we had a lot of great movement and great spacing," Wolfenbarger said. "Just taking advantage of how spaced out on the court we were and kind of pushing the pace, that's something that Coach [Neighbors] talked about going into this game – pace and effort.
"I think we really took advantage of that, and that's why we got as many good looks as we did."
The Razorbacks got hot from three-point range in the second quarter and shot 4 of 8 from deep. Saylor Poffenbarger knocked down two treys in a row, including a step-back make with 1:42 left to give Arkansas its largest lead of the half at 36-23.
Arkansas showed no signs of slowing down out of halftime and put together a quick 8-0 spurt to take a 21-point lead. A three-pointer from Makayla Daniels with 4:59 to play in the third gave the Razorbacks a 57-34 lead – its largest of the game.
"Really disappointed in how we came out of the locker room at halftime," Texas A&M coach Joni Taylor said. "You know, we didn't look like we had a ton of energy. Once you've dug yourself in that kind of hole, it's really hard to get out of it."
It was a balanced scoring effort from Arkansas, which had seven players make a three-pointer en route to 13 threes as a team. Both marks were season highs.
Texas A&M outscored the Razorbacks by one point in the fourth quarter, but never seriously threatened to cut into the lead. Arkansas shot 44% from the floor and 38% beyond the arc.
Samara Spencer led with a game-high 19 points on 7 of 15 from the floor. Erynn Barnum and Makayla Daniels added 12 points apiece, and Poffenbarger chipped in 9 points on 3-of-5 shooting from deep.
Arkansas-Missouri is scheduled to tip off at 11 a.m. on Thursday.
Discussion
Have a comment on this story? Join the discussion or start a new one on the Forums.