UA women need win to boost stock
Published: Sunday, February 26, 2023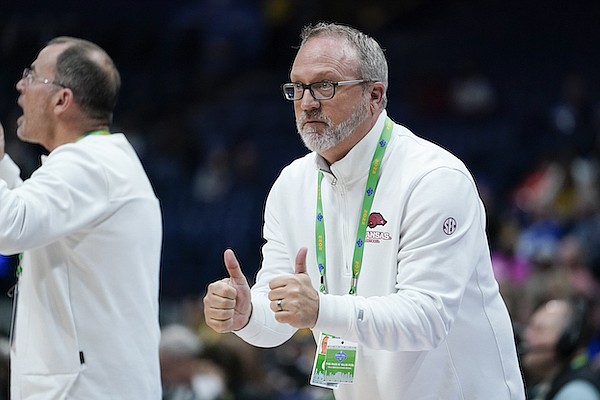 Arkansas head coach Mike Neighbors, right, watches from the sideline in the first half of an NCAA college basketball game against Missouri at the women's Southeastern Conference tournament Thursday, March 3, 2022, in Nashville, Tenn. (AP Photo/Mark Humphrey)
FAYETTEVILLE — With a critical SEC Tournament on tap for the University of Arkansas women's basketball team next week in Greenville, S.C., Mike Neighbors and the Razorbacks could afford to manufacture some momentum.
Arkansas (19-11, 6-9 SEC) has lost 8 of its last 10 games but will look to end the regular season on a high note when Texas A&M visits Walton Arena at 11 a.m. today.
With a victory, the Razorbacks would match their 7-9 conference record from last season, a mark which ultimately resulted in an NCAA Tournament bid. Despite his team slowly falling out of several experts' projected brackets, Neighbors believes his team has a fair chance to play its way back in the field.
"I don't put any stock in what other outlets [say]," Neighbors said following Arkansas' loss to Mississippi State on Thursday. "I've studied this for the last 23 years. I was fortunate to have a head coach who wanted me to understand it, so I've been following it for 23 years. I brought [the team] up to the office. We have it on a board. I showed them the paperwork that I go through and I told them, 'We've got to give the committee something to talk about in that room. We've not shown it in wins, so we've got to show it in how we're playing against good teams.'"
The sixth-year Razorback coach was proud of his team for showing fight in the loss to the Bulldogs. After Mississippi State took a 28-point lead in the third quarter, Arkansas was able to narrow the gap to 13 in the fourth quarter.
"The eye test is probably going to be more important," Neighbors said Thursday night of separating bubble teams this season. "And I think tonight the way we came back and the way we played, anybody that watched that game has got to know that this team has potential given an opportunity. … It's going to come down to something really minute to separate the 67th, 68th, and the 69th and 70th teams, the two teams that don't get in. So let's not give them any more ammunition than they could possibly need."
Texas A&M (7-18, 2-13 SEC) has given multiple SEC opponents fits this season but has struggled to finish off those victories. Should the Aggies upend the Razorbacks, it would all but squash any possibility of Arkansas earning an NCAA Tournament bid without winning the conference tournament.
The Aggies are on the heels of one of their two league wins this season, defeating Kentucky by seven points on Thursday. Texas A&M also knocked off Georgia in January.
Arkansas will honor seniors Chrissy Carr and Avery Hughes, along with support staff, as part of their final home game.
Neighbors confirmed earlier in the week that fellow seniors Erynn Barnum and Makayla Daniels have pledged to exhaust eligibility next season, therefore will wait until the 2023-24 season to take part in the celebration.
"They don't want there to be any ambiguity," said Neighbors of Barnum and Daniels. "They're both playing, they're enrolled in class, their families are making plans to go with us on the foreign tour. So they're starting to plan out their next year. No use going through senior day if you're going to do it next year."
Between his team's tournament hopes on the line and the festivities inside Walton Arena, Neighbors doesn't foresee any lack of effort coming.
"We'll have a lot to play for," Neighbors said. "A last home crowd, senior day for Avery and Chrissy, and a couple of managers [and] people behind the scenes. I won't worry about the effort at home."
Discussion
Have a comment on this story? Join the discussion or start a new one on the Forums.