Poffenbarger leads Arkansas to win at Mizzou
Published: Sunday, January 8, 2023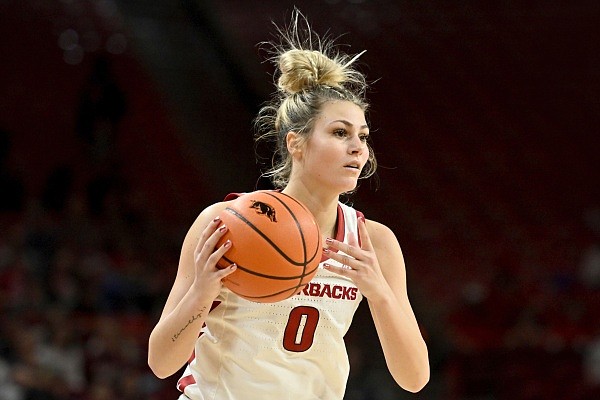 Arkansas guard Saylor Poffenbarger (0) runs a play against LSU during an NCAA basketball game on Thursday, Dec. 29, 2022, in Fayetteville, Ark. (AP Photo/Michael Woods)
Being able to rely on his team's defense is a luxury Mike Neighbors has repeatedly mentioned this season when talking about his Arkansas women's basketball team.
Arkansas (16-3, 3-1 SEC) put the clamps on once again Sunday afternoon and had its third straight game shooting better than 40% en route to a runaway 77-55 road victory against Missouri. It was the Razorbacks' third dominant win in a row by more than 20 points.
It improved Arkansas' record to 5-0 in true road games this season and handed Missouri (14-3, 3-1 SEC) its largest margin of defeat inside Mizzou Arena since December 2019. The Tigers were held to 18 of 62 shooting, well below their 46.4% average, which was third best in the SEC entering the game.
"Our defense travels again," Neighbors said. "We forced a really hard-to-guard offense to only shoot 29%."
The Razorbacks fell behind 9-4 early, but that's when the defense started to set the tone. Missouri had an abysmal 11-minute stretch in the first half without scoring a point, missing 23 straight shots and going 0 of 2 from the free-throw line.
Arkansas took advantage of the cold spell and went on a 15-0 run to turn a five-point deficit into a 19-9 lead midway through the second quarter. It was largely done when Neighbors inserted Rylee Langerman, who sparked some added intensity.
"There was just one little stretch there where I thought they played harder than we did, when Sara-Rose [Smith] came in the game," Neighbors said. "But that's when we countered with Rylee, and I thought Rylee got us back going. I probably should have played her a little bit earlier to get that energy going.
More from WholeHogSports: Our coverage of No. 13 Arkansas' road loss at No. 22 Auburn on Saturday
"I didn't know it was 11 minutes until they just mentioned that, so that's got to be one of our better defensive stretches of the year."
Saylor Poffenbarger took over during the first half for the Razorbacks, scoring 11 points on 45% shooting, including a three-pointer to put the Razorbacks ahead by double figures. She was electric all afternoon, scoring a career-high 24 points.
Her mother, Amy, who starred at Missouri in the early 1990s, was in attendance to witness her daughter's performance.
"She's playing with a lot of confidence," Neighbors said. "She's practiced like this since she came on campus…I think she's just getting more comfortable."
Poffenbarger also had the defensive assignment on Missouri star Hayley Frank and shut down the fifth-year senior and preseason SEC second-team selection. Frank was held scoreless in the first half and finished with a season-low five points.
"It seemed like every time the ball would find Hayley, Saylor was kneecap to kneecap with her," Neighbors said. "And she is an incredibly hard matchup. She really puts a lot of stress on you defensively. I thought Saylor handled it 1-on-1 a lot of times, but I thought our gap defense and just kind of shading and showing, there was help if she did happen to get around it."
Haley Troup ended the scoreless streak for the Tigers with a layup, then put Missouri on her back with eight straight points. Troup scored 12 points before intermission on 4 of 6 from the floor, and the rest of her team shot just 10% (3-30), unable to ever pose a serious scoring threat.
Langerman knocked down a three-pointer at the second-quarter buzzer to give Arkansas a 31-22 lead at halftime and a rush of momentum entering the locker room.
The Razorbacks came out in the third quarter where they left off, with Poffenbarger and Makayla Daniels knocking down back-to-back threes. Arkansas stretched its lead out to as many as 16 points, but Missouri found an offensive rhythm late to bring it within 49-38.
Chrissy Carr hit a tough jumper as time expired in the third quarter to take a 13-point advantage into the fourth.
More from WholeHogSports: Former Baylor safety Al Walcott commits to the Razorbacks
Arkansas owned a 26-17 advantage in the fourth quarter, helped by 3 of 3 three-point shooting from Carr. It was the second consecutive 16-point performance from the Syracuse transfer, who led the team with a plus/minus rating of plus-26.
"Chrissy hit some timely threes that kept people honest," Neighbors said.
Erynn Barnum took things over in the second half, especially in the fourth quarter. The senior from Little Rock posted her second double-double of the season and fifth 20-plus point game with 21 points and 11 rebounds. She has also averaged five assists in the Razorbacks' three-game win streak.
"She's gotten so good at reading cuts, and our kids have become willing cutters because now they know Erynn will pass it when they cut," Neighbors said. "And I thought we found her around the basket. She's so deceptive in her moves around the basket.
"She's used to guarding bigger kids and bigger kids aren't used to guarding players like her. She's made a living out of doing that."
Daniels added nine points for the Razorbacks and Samara Spencer hauled in a team-leading nine defensive rebounds from the point guard spot. Troup finished with 24 points to lead Missouri and Lauren Hansen added 10.
The win gave Arkansas its best start since 2005-06, when the Razorbacks jumped out to 5-1 in league play before losing nine in a row to close the season. It also extended Arkansas' win streak over Missouri to eight games, which is the longest against any SEC foe.
The Razorbacks will have an eight-day pause before returning to action at home against Vanderbilt on Jan. 16.
Discussion
Have a comment on this story? Join the discussion or start a new one on the Forums.