Daniels' buzzer beater downs Vanderbilt
Published: Monday, January 16, 2023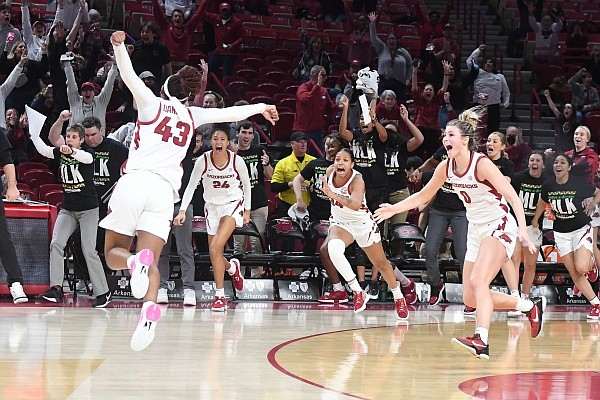 (
J.T. Wampler
)
Arkansas senior Makayla Daniels (43) celebrates with her teammates after sinking a three-pointer at the buzzer to beat Vanderbilt on Monday, Jan. 16, 2023, at Bud Walton Arena in Fayetteville.
FAYETTEVILLE — Late in Monday night's game between Arkansas and Vanderbilt, it looked as if a magical fourth quarter from the Commodores was going to send the game into overtime.
Vanderbilt's Marnelle Garraud capped her team's 7 of 7 three-point shooting performance in the period by banking in a shot from deep to tie the game 81-81 with 4.3 seconds left. Arkansas' 70-61 lead with 3:27 remaining evaporated.
But that is when Arkansas senior guard Makayla Daniels manufactured some heroics of her own. With no timeouts remaining, Daniels received an inbound pass from Samara Spencer, took four dribbles and heaved a prayer from just across half court.
It was answered.
Daniels' shot went in off the glass as the buzzer sounded and sent Bud Walton Arena into pandemonium. The score gave Arkansas (17-3, 4-1 SEC) an 84-81 victory and its fourth win in a row.
"We practice them before every game," Daniels said of the final shot. "I was not expecting it to go in, but I was like, 'What's the worst that could happen? We go into overtime.'"
Though Daniels had doubts if her shot had a chance, Spencer, who led Arkansas with 23 points, had full confidence.
"I knew it was going in as soon as it left her hands," Spencer said, "so I was just running to the basket because I knew it was going in. I'm happy for her. I'm happy she could lead us to something like that."
Daniels said it was her first buzzer beater at any level and that it took overcoming the mental challenge of watching Vanderbilt sizzle from three.
"When you get scored on and it's in that moment, you're like, 'Well, it's all my fault,'" she said. "But just encouraging teammates and just sticking together, because we could have easily played the blame game. But every time somebody scored it was just, 'Next play, next play.'"
Arkansas led 27-26 at halftime in what appeared to be a defensive battle. The teams combined to score 112 points in the final two quarters, with Daniels' shot ultimately being the difference.
"I'm disappointed in the first half, but really, really encouraged in the second half in our kids' ability to play through to the buzzer," Arkansas coach Mike Neighbors said. "And, obviously, Mak just having the awareness that we were out of timeouts, Sam getting it (in) quick, getting the ball up the floor and don't let the horn go off with the ball in your hands. I'm glad we got the win."
It was a struggle for the Razorbacks all night to gain separation against the Commodores, who responded each time Arkansas began to create a sizable lead. Arkansas seemed to have pieced together a run early in the fourth quarter to finally end Vanderbilt's hopes, going on a 20-12 spurt.
Spencer was strong during the sequence, scoring 10 points in less than four minutes, but Garraud answered. She scored a game-high 31 points, went 7 of 10 from three-point range and made 4 three-pointers in the game's final 5 minutes.
"I think they went 7 for 7 in the fourth quarter," Neighbors said. "I mean, you're thinking, 'Surely they're going to miss one here in a minute. Surely they're going to miss that one. Surely that one's not going in.'"
Vanderbilt (9-10, 0-5 SEC) lost its fifth straight game to open conference play, but the three-point loss was its closest yet. The Commodores went 13 of 24 overall from deep, including 11 of 13 (84.6%) in the second half.
Arkansas' size proved to be a difference in the game. The Razorbacks outscored Vanderbilt 38-26 in points in the paint.
"Hats off to Arkansas," Vanderbilt coach Shea Ralph said. "You know, they did what they had to do to win the game. On the other end, I'm extremely proud of the growth of my team. I'm not a believer in moral victories at all. I hate losing maybe more than anything else, and it stinks to play the way we played today and go home with a loss.
"But the growth that I'm seeing in my team is incredibly inspiring."
All five Arkansas starters scored in double figures. Spencer (23), Erynn Barnum (18) and Daniels (16) led the charge, and Barnum nearly posted a double-double with 9 rebounds.
It is the fastest the Razorbacks have reached 17 wins since the 2006-07 season, when it also took the team 20 games. Arkansas also matched its regular-season win total from last season.
The 4-1 start to SEC play is Arkansas' best since 2005-06 when the team raced out to a 5-1 mark. And the win kept the Razorbacks' momentum rolling entering a grueling two-game road stretch at No. 3 LSU on Thursday and No. 1 South Carolina on Sunday.
It will be the first time the Razorbacks have ever faced top-3 opponents in back-to-back games.
Discussion
Have a comment on this story? Join the discussion or start a new one on the Forums.