'Bama sinks Razorbacks with late 3
Published: Friday, January 27, 2023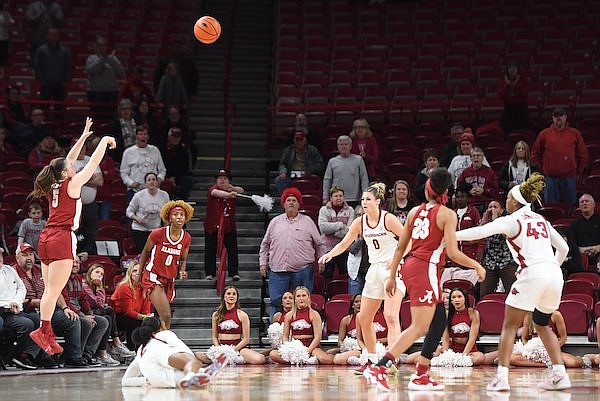 (
Andy Shupe
)
Alabama guard Hannah Barber makes a game-winning, three-point basket Thursday, Jan. 26, 2023, over Arkansas guard Samara Spencer during the second half of the Razorbacks' 69-66 loss in Bud Walton Arena in Fayetteville.
FAYETTEVILLE — A three-pointer by Alabama's Hannah Barber broke a tie with eight seconds left and sunk Arkansas' women's basketball team 69-66 on Thursday inside Bud Walton Arena.
Arkansas (17-6, 4-4 SEC) trailed for all but six minutes of action en route to dropping its third-straight game. Alabama forced the Razorbacks to 20 turnovers, with 14 of those coming off steals.
"We can't win another game on our schedule if we turn it over a third of the time that we have the ball," Arkansas coach Mike Neighbors said. "We're not built defensively to get enough stops. We're not built to out-rebound people by enough to overcome that. We're built to be a strong ball handling team, a take care of the ball team. And tonight, we were not."
Arkansas erased a five-point deficit with just over two minutes to play, capped by a game-tying three-pointer from Makayla Daniels with 33 seconds remaining. Alabama Coach Kristy Curry then called a timeout and Barber answered with the game-winner.
"You thought, 'Man, get this overtime,' Neighbors said. "We got the momentum [and] the crowd's there. I thought we had a good idea of what the play was, and I thought we ran into contact, but we didn't get it defended. And Hannah Barber, you know, I think she's the most undervalued player in this conference."
The Crimson Tide shot 50% from the floor and were led by graduate senior guard Brittany Davis who scored a game-high 22 points. Alabama, which entered with the SEC's best three-point percentage, made 8 of 17 from deep, including a 4 of 7 clip by Davis.
"I told Kristy, I thought they made every big play they needed to," Neighbors said. "They really exposed a lot of things that we were deficient in being able to guard them."
Arkansas and Alabama entered the game both top-two in the SEC for three-pointers made and attempted, and the teams had the long ball flying early and often.
Alabama's Aaliyah Nye and Arkansas' Saylor Poffenbarger traded makes from deep on the game's first two shots. Poffenbarger and Chrissy Carr gave Arkansas an 11-5 advantage off back-to-back threes, its largest of the night.
Six threes were made between the teams in the first five minutes, including two from Davis, who entered the game with the SEC's fourth-highest scoring average.
The Razorbacks then went through a 6-minute, 30-second scoring drought to close the first quarter, and a 13-0 run put Alabama up 18-11.
Neighbors credited Alabama coach Kristy Curry for making defensive adjustments, including taking her team out of a full-court press to spark the run.
"We got in the bonus in about the first three minutes of the quarter and then we didn't drive to the basket one more time," he said. "We settled for a bunch of threes. That's when I think we went six minutes without scoring – it felt like 60 – but that's where that run happened. I think she just made an adjustment and we never adjusted back.
"That's just a credit to her for making a change."
Samara Spencer hit a driving layup at the first half buzzer to pull Arkansas within 36-30, and the Razorbacks opened the second half with a quick 7-0 flurry to take a 37-36 lead, their first since the game's early stages. Alabama quickly reclaimed the lead off Davis' fourth three-pointer of the night, and from there it was back-and-forth.
Spencer hit a three to put the Razorbacks ahead 50-49 with 30 seconds left in the third quarter, but it was Arkansas' last advantage of the game. Neighbors' team knotted things up twice in the fourth quarter, but Alabama had an answer each time, including Barber's game winner.
The Razorbacks are scheduled to play inside Bud Walton Arena again Sunday, tipping off against Ole Miss at 4 p.m.
Discussion
Have a comment on this story? Join the discussion or start a new one on the Forums.