Arkansas blows big lead, falls to Rebels in OT
Published: Monday, January 30, 2023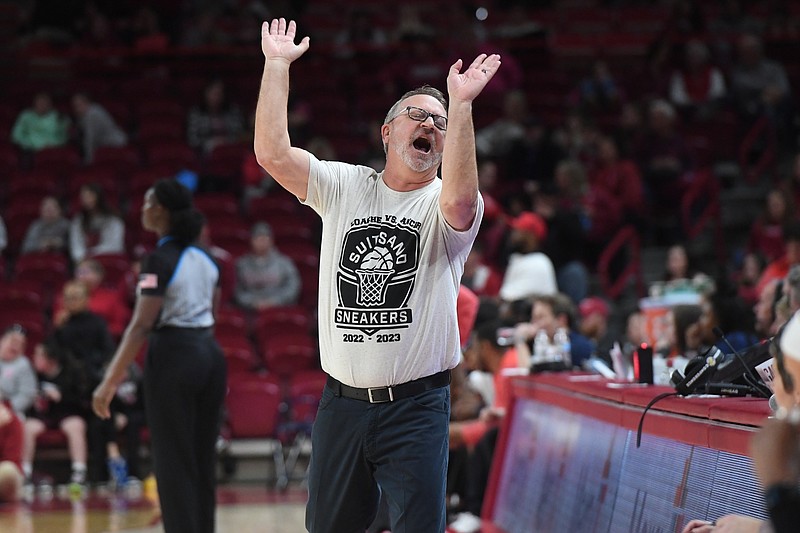 Mike Neighbors is shown on the sideline during Arkansas' 76-73 loss to Ole Miss on Sunday, Jan. 29 2023, at Bud Walton Arena in Fayetteville. Visit nwaonline.com/photo for the photo gallery. (NWA Democrat-Gazette/J.T. Wampler).
FAYETTEVILLE — Ole Miss overcame a 19-point halftime deficit and defeated Arkansas' women's basketball team 76-73 in overtime Sunday inside Bud Walton Arena.
The Rebels trailed by two points with seven seconds remaining, but went coast-to-coast and forced an extra period with a buzzer-beating layup by Tyia Singleton. Ole Miss (18-4, 7-2 SEC) then outscored the Razorbacks 12-9 in overtime to complete the comeback.
"I'm gut-wrenched," Arkansas coach Mike Neighbors said. "I feel like it all falls on me as their head coach when you're up 19 to get them home…to tell them the right thing. And I haven't found that common denominator to do it. I take it very hard and I am gut-wrenched right now, maybe more so than any game that I've ever been a part of.
"That's how much this game could have meant to us. To me, if it doesn't mean anything, it's not going to hurt."
It was the fourth straight loss for Arkansas (17-7, 4-5 SEC) and second in overtime this season. Three games during the losing skid have been decided by one possession, the Razorbacks falling short in each.
"We're not in panic mode," Neighbors said. "To be where we're at with the stuff that we still have ahead of us, it would sure be a shame to start blaming each other and packing it in and start making plans for next year.
"There's still too much ahead of us."
The loss came despite a career day from senior forward Erynn Barnum, who scored 37 points. It was the best individual scoring game since Razorbacks great Chelsea Dungee had 38 against Ole Miss in February 2021.
Barnum became one of seven players in program history with at least 37 points in a game.
"She kicked our butt," Ole Miss coach Yolett McPhee-McCuin said. "We have a lot of respect for Erynn. We talked about her. We knew that she could hurt us, but, I mean, she got hot from the three and we weren't expecting that.
"I just told the team we're going to have to live with that."
Barnum led the Razorbacks with three makes from behind the arc while shooting 13 of 21 overall. She gave Arkansas a go-ahead score late with 16 seconds left in the fourth quarter, but Ole Miss answered with the tying layup to send the game to overtime.
"She's healthy and our kids have confidence playing through her," Neighbors said. "That is a massive game."
The Razorbacks looked to be well on their way to a win after outscoring Ole Miss 21-4 in the second quarter, rallying behind the energy of an announced crowd of 6,677. Neighbors' team closed the frame with a 13-0 run in which they held Ole Miss scoreless for the final six minutes.
Arkansas led 39-20 at halftime thanks to 18 first-half points from Barnum.
Ole Miss came out stronger in the second half, aided by a former Razorback willing the Rebels to the comeback victory. Marquesha Davis, who graduated from Springdale High and spent two seasons at Arkansas before transferring to Ole Miss, scored 15 of her team-high 20 points in the second half.
"It felt good to have the type of game I had because I got to do it in front of all of my family and friends," Davis said.
The Rebels chipped away at the Razorbacks' lead in the third quarter, holding Arkansas to just 11 points. Arkansas' lead narrowed to 50-39 entering the fourth quarter.
Ole Miss outscored the Razorbacks 25-14 in the final period en route to forcing overtime. It was done largely from establishing dominance on the glass.
The teams were knotted at 18 rebounds apiece at halftime, but the Rebels finished the game with a plus-17 rebound margin and 21 second-chance points.
"What you saw in the second half was no more quit, no more meltdowns, resiliency," McPhee-McCuin said. "We do this thing where we want to get three stops in the row. It's called a kill. We knew we needed to get multiple kills, and that led us to some easy offensive baskets."
Arkansas took a 71-70 advantage with 2:11 left to play in overtime behind a jumper from Makayla Daniels. But the Rebels closed the period on a 6-2 run to come away with a win.
The Razorbacks are scheduled to next play at Auburn on Feb. 5.
Discussion
Have a comment on this story? Join the discussion or start a new one on the Forums.