Arkansas softball falls 2-1 to UCA
By: Katie Parker
Published: Tuesday, March 7, 2023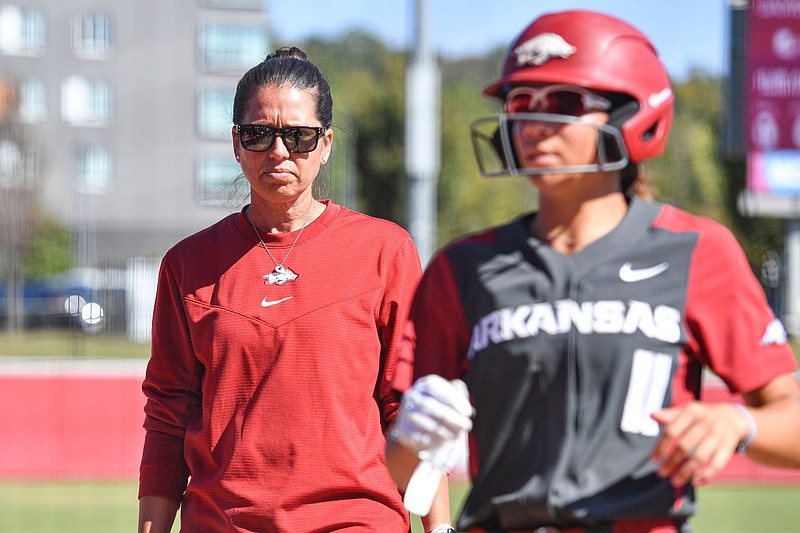 ( Hank Layton )
Arkansas coach Courtney Deifel reacts on Sunday, Oct. 9, 2022, during the third inning of the Razorbacks' 4-2 win over Louisiana Tech at Bogle Field in Fayetteville.
FAYETTEVILLE — Central Arkansas rallied in the sixth inning and upset the sixth-ranked Arkansas softball team 2-1 on Monday at Bogle Park.
After trailing 1-0, the Sugar Bears scored two runs in the sixth and closed out the Razorbacks to earn the win. It was UCA's first victory over Arkansas.
"I have a lot of my kids on the team that are from (Arkansas)," UCA coach Jenny Parsons said. "A lot of my kids on my team have come up here for camps and lessons and stuff like that. I couldn't be more happier for them.
"They've played here in the state tournament (in high school), but they've never played against Arkansas here and they finally got a win."
UCA (14-5) was previously 0-4 against Arkansas, but had come within one run in two of the teams' previous three meetings.
"We have tough games every time we play them," Arkansas coach Courtney Deifel said. "That's why we like playing them. They demand our best game. We know we're going to get theirs. We know that they're highly motivated in this matchup.
"They are always really gritty, they are always well coached. They competed their butts off tonight and deserve the win."
Arkansas (19-4) grabbed a 1-0 lead in the first inning on a sacrifice fly from Rylin Hedgecock that scored Reagan Johnson. It was an advantage the Razorbacks were able to hold through five innings thanks to the work of pitcher Chenise Delce.
Delce surrendered her first hit of the game in the fifth inning, when UCA put together its first scoring threat. With runners on second and third, the redshirt senior escaped the jam with a foul out followed by her eighth strikeout.
The Sugar Bears threatened once again in the sixth, but this time got the best of Delce and the Razorbacks. With two outs and a pair of runners in scoring position, a wild pitch allowed Jenna Wildeman to come home and tie the game 1-1.
In the next at-bat, Mary Brown drove a two-strike pitch to right field for an RBI double to score Tremere Harris and give UCA its first lead.
Kacie Hoffmann opened the seventh with a single to deep left field. Following two straight outs, the Sugar Bears walked Rylin Hedgecock, bringing up Cylie Halverson, who struck out swinging to end the game.
"I'm proud of how we made adjustments," Parsons said. "Chenise was dealing. Really proud of how (we) competed. My team, they love each other and they play hard."
Delce pitched a complete game. She faced 28 batters, allowed 4 hits, 2 runs and had 10 strikeouts.
Jordan Johnson went the distance in the circle for the Sugar Bears. She faced 31 batters with 5 hits allowed and 7 strikeouts.
The Razorbacks will now look ahead to their SEC-opening series against Texas A&M. Conference play begins Friday at 6 p.m., and games will be streamed on SEC Network-Plus.
Discussion
Have a comment on this story? Join the discussion or start a new one on the Forums.