Notes and observations from Day 2 of spring football practice
Published: Friday, March 10, 2023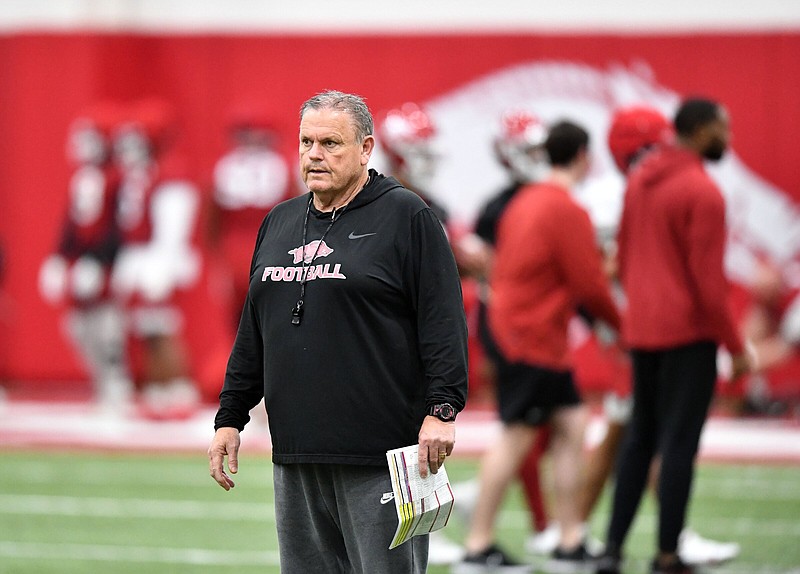 Arkansas football Coach Sam Pittman watches over the Razorbacks' first practice of spring drills Thursday at the Walker Pavilion in Fayetteville. (NWA Democrat-Gazette/Andy Shupe)
The Arkansas football team returned to Walker Pavillion for its second day of spring practice Friday afternoon.
Here are some notes and observations from the media's hour-long viewing session on Day 2:
• Five players — Quincey McAdoo, Al Walcott, LaDarrius Bishop, Dominique Johnson and Luke Brown — were held out of practice for the second consecutive day. They remained on stationary bikes throughout the media viewing portion.
• Isaiah Sategna flashed his speed during multiple one-on-one battles. He blew past Jayden Johnson on a double move but Jacolby Criswell underthrew the ball.
• Criswell was picked off by Dwight McGlothern, who jumped an out route that was intended for Jaedon Wilson. The transfer quarterback also botched a hand-off exchange with Raheim "Rocket" Sanders, although the running back fell on the ball.
• Lorando "Snaxx" Johnson was glued to receivers throughout practice. He broke up the pass on all three of his one-on-one reps. Tyrone Broden came the closest to beating Johnson when he used every inch of his 6-7 frame to highpoint the ball, but Johnson shoved him out of bounds before the receiver got his feet down.
• As expected, Dan Enos' offense seems to have some pro-style wrinkles. There were several series with two-tight end sets. Quarterback KJ Jefferson also took multiple snaps under center during the last team portion.
• Nathan Bax is the heaviest tight end on the roster at 252 pounds and certainly seems to be the most physically imposing. He consistently blocked harder than everyone else in the position group during individual drills. In the team session, he got the better of defensive end Zach Williams on an outside run and tossed him to the ground.
Here is how the Razorbacks aligned during the fastball start:
First-Team Offense:
QB: KJ Jefferson
RB: Raheim Sanders
WR: Jaedon Wilson
WR: Isaiah Sategna
WR: Sam M'bake
TE: Nathan Bax
LT: Brady Latham
LG: Patrick Kutas
C: Beaux Limmer
RG: Josh Braun
RT: Andrew Chamblee
First-Team Defense:
DE: Landon Jackson
DT Cam Ball
DT Eric Gregory
DE: Jashaud Stewart
LB: Christopher Paul
LB: Jordan Crook
CB: Dwight McGlothern
CB: Lorando Johnson
S: Hudson Clark
S: Courtney Snelling
Nickel: Jayden Johnson
Second-Team Offense:
QB: Cade Fortin
RB: Rashod Dubinion
WR: Tyrone Broden
WR: Isaac TeSlaa
WR: Chris Harris
TE: Ty Washington
LT: Devon Manuel
LG: Terry Wells
C: Josh Street
RG: Ty'Kieast Crawford
RT: E'Marion Harris
Second-Team Defense:
DE: Zach Williams
DT: Taurean Carter
DT: Marcus Miller
DE: Nico Davillier
LB: Antonio Grier
LB: Mani Powell
CB: Jaylon Braxton
CB: Landon Phipps
S: TJ Metcalf
S: Malik Chavis
Nickel: Dallas Young
Discussion
Have a comment on this story? Join the discussion or start a new one on the Forums.