Hog Calls:
Razorbacks were likely in NCAA Tournament already
Published: Saturday, March 11, 2023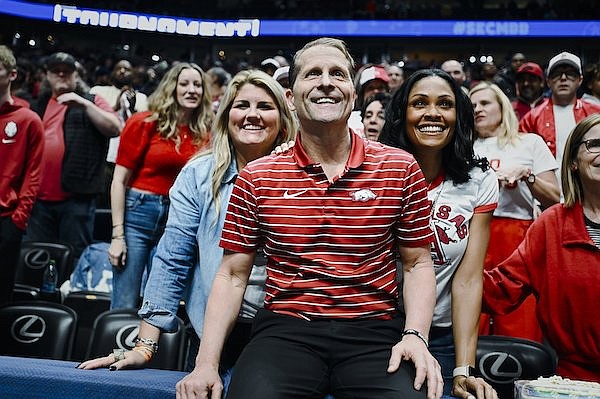 (
Charlie Kaijo
)
Arkansas head coach Eric Musselman takes a photo with Danielle Musselman, Thursday, March 9, 2023 after the second half of the 2023 SEC Men's Basketball Tournament at Bridgestone Arena in Nashville, Tenn.
FAYETTEVILLE — According to the gist of the bracketologists, and perhaps astrologists and various others 'ologists, it twinkled in the stars for the Arkansas Razorbacks belonging in the NCAA Tournament, even had they lost their first-round SEC Tournament game Thursday night to Auburn in Nashville, Tenn.
Probably, but wonder if that would have been a fool-proof definite. Despite Arkansas' metrics breezing 11-2 through a rugged nonconference schedule and playing three nationally AP Top 25 teams to finish its SEC regular season, the humans on the NCAA Tournament committee might have looked beyond Arkansas' high NET number and noted the 10th-place, 8-10 in the SEC Razorbacks lost those last three games.
The Hogs lost the final two decisively, the last one at home. They would have been a 19-13 team on a four-game skid had the Hogs lost to Auburn Thursday night.
If enough "wrong winners," prevailed, as former Arkansas women's coach and retired Texas A&M Coach Gary Blair described regular season distant also-rans unexpectedly grabbing automatic NCAA Tourney berths by winning their conference tournaments, Arkansas might have found that Big Dance window suddenly shutting.
Despite losing a 15-point lead to trail 73-72 after never trailing other than 2-0, Coach Eric Musselman's Razorbacks survived, 76-73.
The 20-win Hogs sport an NCAA Tournament resume that shouldn't be turned down.
Nick Smith's base-line jumper with 20 seconds left for a 74-73 lead and Devo Davis' ultimately seal-the-deal steal and two free throws sufficed.
Smith's shot and big-time games by point guard Anthony Black, and off the bench forwards Makhi Mitchell and Jordan Walsh deserve headlining accolades.
Though all four outscored Davis, the junior from Jacksonville deserves mention right with them. Not only did the 6-4 guard make the big steal and free throws, he grabbed a game-high 10 rebounds, played all 40 minutes and held Wendell Green to zero second half points.
No easy feat given Green, 11 first-half points, recently scored 24 beating Tennessee, the nation's leading defensive team, and tallied 19 on Arkansas on Jan. 7 when the Tigers thumped the Hogs, 72-59 in Auburn, Ala.
"Devo Davis' defense on Wendell Green in the second half, that's as hard as it gets," Arkansas assistant coach Gus Argenal told the Razorback Sports Network's radio audience Thursday night. "Devo is so focusing on it. He actually made us run through sets an extra time today after our pregame meal which he's never done. He wanted everyone to be dialed in. Our guys want more. They want to keep playing."
Playing in the SEC Tournament, then beyond in the NCAA Big Dance.
Discussion
Have a comment on this story? Join the discussion or start a new one on the Forums.