Trustees hear Yurachek's vision for Bud Walton Arena
Published: Wednesday, March 15, 2023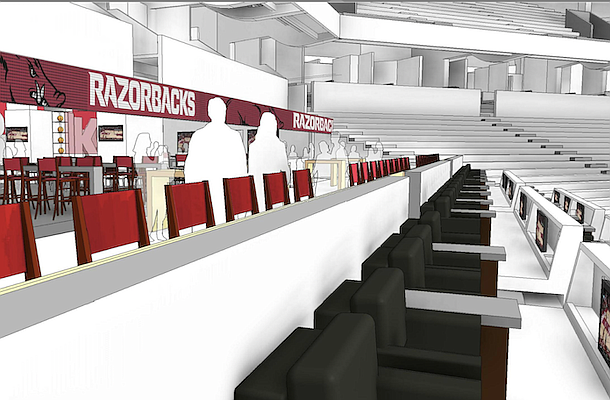 A rendering shown to University of Arkansas trustees Tuesday depicts what loge boxes might look like inside Bud Walton Arena following a renovation. (Courtesy Arkansas Razorbacks)
LITTLE ROCK — Bud Walton Arena has "served us well" as home of the Arkansas Razorback basketball teams since it opened 30 years ago, but it is now "somewhat tired and in need of renovation," University of Arkansas Athletic Director Hunter Yurachek said Tuesday.
During a meeting of the University of Arkansas System Board of Trustees, Yurachek presented three possible scenarios for renovating the facility that opened in November 1993, but he stressed those are from a "very preliminary feasibility study, [and] are only concepts right now."
The university will look for an architect and general contractor to work together on design possibilities, Yurachek told trustees, who met on the University of Arkansas for Medical Sciences campus in Little Rock. By having the architect work alongside the general contractor, "we'd get an idea of pricing," as opposed to "the architect designing a building you love but can't afford."
Yurachek plans to present an architect and general contractor for approval by the trustees this summer, then — in January or March of 2024 — bring a recommendation with details of the potential renovation to the trustees for approval, he said. Under that timeline, work could begin on the arena in March 2025 with an "ideal" grand opening in November 2026, but "we'd have to be very fortunate to hit all these dates."
More from WholeHogSports: More notes from Yurachek's address to trustees
Under this plan, the Razorback basketball teams would need to play home games away from Bud Walton Arena in November and December of 2025, he said. Other events accustomed to using the arena, such as the university's commencement, would also have to find a new home for a year or two.
The arena hosts nearly 100 events annually, including women's basketball games, gymnastics and Walmart's annual shareholders meeting, he said. However, depending on the scale of the renovation, more events could come to the arena, potentially producing more revenue.
The current capacity is over 19,000, which makes it one of the largest on-campus arenas in college basketball, but "we've hit a ceiling on revenue," he said. More events, as well as more "premium space," would generate additional revenue.
Of the 16 schools that will compromise the new SEC when the Texas Longhorns and Oklahoma Sooners join the league in a couple of years, Razorback athletics' current revenues are higher than only five others, according to the university. The athletic department's expenses also rate 11th in the league.
Under the first scenario, only deferred maintenance needs — from the seats and bleachers, to the floor and roof, to plumbing and restrooms — would be addressed at the arena, according to the proposal. This would cost an estimated $44 million.
The second scenario would address those deferred maintenance needs but also add more premium seating, such as club-level seats, loge boxes and upper concourse suites, while also enhancing student seating, according to the proposal. The arena currently has no loge and club-level spaces, and while suites do exist, they would be enlarged and renovated.
This scenario may remove 1,500 to 2,000 seats, however, Yurachek said. While the men's basketball team continues to sell out season tickets, the arena is rarely filled to actual capacity.
The "yield rate" is only 70%, meaning the average actual attendance for those games is only 70%, he said. The season ticket renewal rate is roughly 90% currently, meaning that there shouldn't be any season ticket holders for the current arena who want to renew who wouldn't have seats in a renovated version.
Additionally, "there's something to be said for having more demand than supply," Yurachek said. If the building is generally filled closer to capacity — even a slightly reduced capacity — the atmosphere will be better, the crowd noise will be louder, and "we'll have even more of a home-court advantage than we do already."
Trustee Tommy Boyer, a UA graduate and an All-American basketball player for the Razorbacks, said he was "worried" about removing seats from the arena with the booming population of Northwest Arkansas.
However, Yurachek noted that arenas in larger metro areas have smaller capacities than what Bud Walton Arena would have even if it lost 2,000 seats.
"The trend is toward 15,000 to 17,000" seats, Yurachek said. Auburn recently built a basketball arena with roughly 9,000 seats, and Alabama plans to build a basketball arena with similar capacity.
The final scenario would encompass the improvements of the first two scenarios while also turning the arena into a true multipurpose facility, he said. This would include a new floor — the current floor is basketball-only, a rarity in college sports today — as well as a locker room and storage for gymnastics.
The gymnastics team has recently begun holding some meets at the arena to resounding success, he said. The average attendance has been roughly 10,000 for those meets.
The arena could also host concerts and other live events that currently pass over Northwest Arkansas, he said. Under this scenario, the university would also have to work on "solving the parking challenge there."
Financing scenarios are preliminary at this point, but — under one model — an athletic department bond issue for $50 million would cover the first scenario, according to the proposal. The second and third scenarios include that same commitment, but also include $25 million or more in gift commitments — for the second scenario — or $25 million or more in gift commitments and $25 million or more in third-party partnerships for the final scenario (although no cost estimates for scenarios two or three were presented Tuesday).
The Razorback Foundation has been in the planning phase of a $125 million capital campaign to keep pace with fellow SEC members, said Scott Varady, executive director and general counsel for the foundation. Such a campaign would produce funds to assist in the renovation of Bud Walton Arena.
Naming rights can also generate revenue, said Varady, who the university announced on Monday will be vice chancellor for university advancement, effective April 17. Donald W. Reynolds Razorback Stadium, for example, could be renamed as soon as 2024.
Razorback athletics remain self-supporting and receive $0 in student fees or direct university funding, according to the university. Over the next six years, athletics will retire $78 million in debt, and no athletic debt extends beyond 14 years.
Trustee Ted Dickey is "grateful to the Waltons, who gave us a building we can renovate" — as opposed to having to construct a new building — which will keep these costs manageable.
When Bud Walton Arena was built, it cost $30 million — the cost was split nearly evenly between bonds and gifts — and at that time, men's athletics at the university produced $13 million in annual revenue, according to the university.
In 2023, men's athletics account for $150 million in revenue, roughly 70% of which is football, with basketball 20%.
Discussion
Have a comment on this story? Join the discussion or start a new one on the Forums.