UA softball loses again
Published: Wednesday, March 15, 2023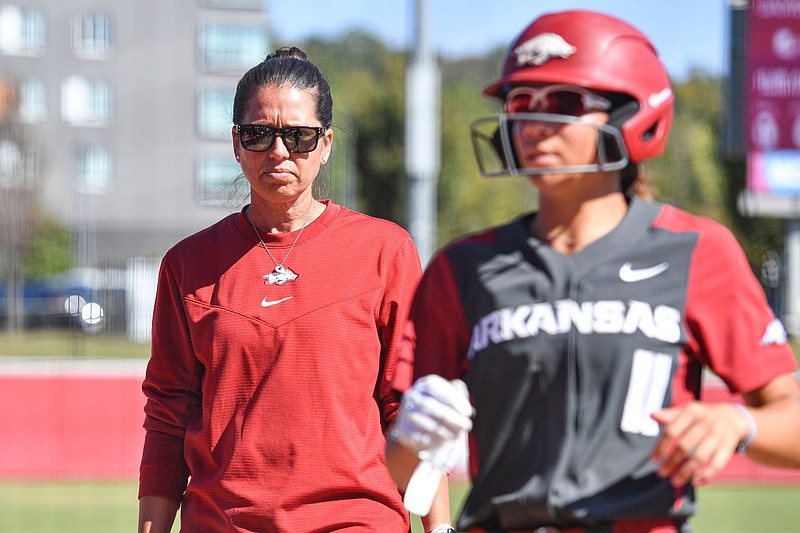 ( Hank Layton )
Arkansas coach Courtney Deifel reacts on Sunday, Oct. 9, 2022, during the third inning of the Razorbacks' 4-2 win over Louisiana Tech at Bogle Field in Fayetteville.
Wichita State scored eight runs off three home runs in the first inning and run-ruled the University of Arkansas 10-2 in six innings on Tuesday night at Wilkins Stadium in Wichita, Kan.
No. 9 Arkansas (20-7) grabbed a 1-0 lead off a Rylin Hedgecock RBI double to start the game, but the Shockers scored eight unanswered runs.
Wichita State (19-5) took a 5-1 lead off a three-run home run from Lauren Lucas and a two-run shot from Lauren Mills. Later in the inning, Sydney McKinney slammed a three-run homer to put the Shockers ahead 8-1.
Cylie Halvorson got a run back for Arkansas in the sixth off an RBI single, but the Shockers scored two runs in the bottom of the inning to end the contest.
Arkansas transfer Lauren Howell started for Wichita State to defeat her former team, pitching 6 innings and allowing 2 runs on 5 hits.
Callie Turner (5-1) took the loss for Arkansas, exiting the game before getting an out. Freshman Robyn Herron pitched 2 1/3 innings and gave up 3 runs off 3 hits. Hannah Camenzind threw 3 innings and allowed 2 runs.
Discussion
Have a comment on this story? Join the discussion or start a new one on the Forums.