Razorbacks confident entering WNIT opener
Published: Thursday, March 16, 2023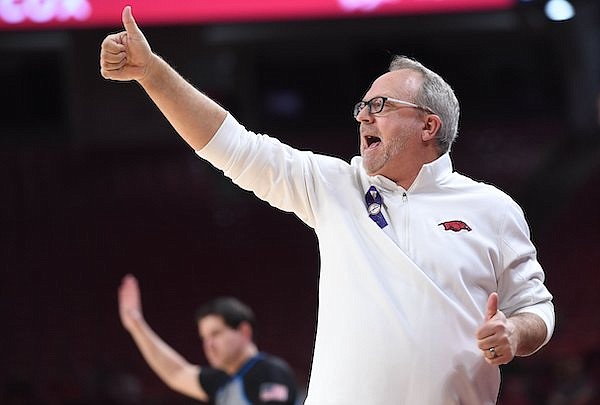 (
Andy Shupe
)
Arkansas coach Mike Neighbors directs his players Thursday, Jan. 26, 2023, during the second half of the Razorbacks' 69-66 loss to Alabama in Bud Walton Arena in Fayetteville.
FAYETTEVILLE — After not hearing Arkansas' name called during the NCAA Tournament Selection Show on Sunday, Mike Neighbors gave the Razorbacks roughly 15 minutes to feel the pain.
After emotions had been let loose and time was up, Arkansas flipped the page and focused on embracing a new goal. His team challenged itself to win the Women's National Invitation Tournament.
Arkansas (21-12) begins its quest tonight against Louisiana Tech in Bud Walton Arena at 7 p.m.
"[Neighbors] told us we had like 15 minutes to be mad, be sad or whatever, but after those 15 minutes, we were going to turn our focus to whatever the plan was for this week," Razorbacks senior guard Makayla Daniels said. "That was for the WNIT. We weren't concerned [with], 'Oh, we didn't make the tournament,' feeling pity for ourselves.
"It was kind of just like, 'Let's switch the focus and let's win in this postseason.'"
Daniels, the team's veteran leader who has started all 118 games of her career, made it clear that Arkansas' goal is to end the season with a WNIT title.
"I think we're all very confident," she said. "I think we all realize the opportunity we have with this WNIT tournament, and I don't think there's one person that wants our season to end just yet."
The Lady Techsters (19-12) finished fifth in Conference USA and will be playing in Fayetteville for just the second time. Louisiana Tech is 3-0 all-time against the Razorbacks.
It most recently beat the Razorbacks 75-52 in November 1983.
Arkansas ties are scattered across the Lady Techsters' team, starting at the top with coach Brooke Stoehr, who was born in Portland, Ark.
Stohr was the starting point guard for Louisiana Tech from 1998-02, a stretch which saw the Lady Techsters make one Final Four and two Elite Eights. She received her first assistant coaching job in 2003 at Arkansas-Little Rock under coach Joe Foley.
Fifth-year guard Keiunna Walker, who is the storied program's No. 8 all-time scorer, starred at Lonoke High School from 2014-18. She has scored in double figures 29 times this season and has also drawn 50 charges, a feat that has impressed Neighbors.
"Keiunna Walker came to our camps and was a great player there," Neighbors said. "We just had Makayla coming, so we didn't recruit Keiunna. She's had a great career for them down there. [She is] one of the leading guards in the country at getting to the foul line and drawing fouls.
"She'll remind our fans of [former Razorback and current Oklahoma City Thunder forward] Jaylin Williams."
It is Arkansas' eighth WNIT appearance, which includes a tournament title in 1999 under Women's Basketball Hall of Fame coach Gary Blair. The Razorbacks most recently competed in the event in 2019, winning two games before falling to eventual semifinalist TCU.
"I think how we play this next game, whether that's the last one or we play six more and win it all and hang a banner, I think how we go about doing it will be what springboards us," Neighbors said of using the WNIT to build momentum. "You know, the last time we played into the [W]NIT deep, it spring-boarded us into three straight NCAA tournaments. Let's do that again.
"Let's take advantage of our opportunity. There'd be nothing better than to get a banner up there beside Coach Blair and that team from '99's banner."
Daniels and redshirt senior Erynn Barnum both announced they will exhaust their collegiate eligibility next year, capitalizing on the additional covid-19 season. However, the tournament gives seniors Chrissy Carr and Avery Hughes another opportunity to play at home inside Bud Walton Arena, something Daniels said she doesn't want to take for granted.
"It's hard to see your seniors go and so you want to keep playing with them as long as you possibly can," Daniels said. "I think the opportunity we have is special and we have to do what we can with it to get them to play as many games as they can in a Razorback uniform."
Discussion
Have a comment on this story? Join the discussion or start a new one on the Forums.