Spencer nearly matches SFA total as Razorbacks advance in WNIT
By:
Ethan Westerman

Published: Monday, March 20, 2023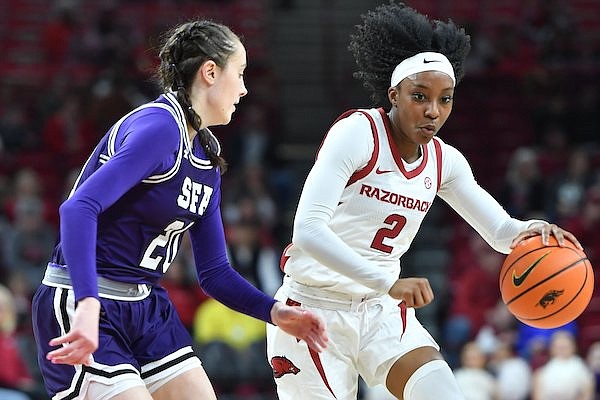 (
Andy Shupe
)
Arkansas guard Samara Spencer (right) drives Monday, March 20, 2023, past Stephen F. Austin guard Angel Scott during the second half of the Razorbacks' 60-37 win in Bud Walton Arena in Fayetteville.
FAYETTEVILLE — Samara Spencer had an extra bounce in her step Monday evening as she entered Walton Arena for the Razorbacks' second-round Women's National Invitation Tournament matchup against Stephen F. Austin.
The energy was evident in warmups and translated into a big performance for the sophomore guard from Fort Lauderdale, Fla.
Spencer nearly outscored the Lumberjacks on her own with a game-high 27 points, and the University of Arkansas women's basketball team put on a defensive clinic to advance to the WNIT Super 16 with a 60-37 victory over the Ladyjacks.
"I was feeling good, and think it's the hair," Spencer said playfully, sporting her natural hair with a headband. "I don't know, it might be some good juju in the hair. … I mean, it does all start in warmups and even though we're in the WNIT, it's still postseason and we're still playing for something.
"Just being able to have that spunk and being able to put that into my teammates...it just made the day much better."
SFA (27-7) grabbed an early 5-1 lead three minutes into the game, but it was short-lived. Arkansas took a 9-7 advantage when Saylor Poffenbarger hit the team's second three-pointer with 3:08 to play in first quarter.
The Razorbacks (23-12) never let the Ladyjacks get back into the game. Arkansas went on a 14-0 run over a five-minute stretch to take a commanding 18-7 lead, highlighted by two Spencer three-pointers. The spurt set the tone for the game's remainder, starting on the defensive end for Arkansas.
For the second straight game, Arkansas set a program low in points allowed during a WNIT contest.
"They were just in sync," Ladyjacks Coach Mark Kellog said of the Razorbacks' defense. "They were connected, I thought, defensively, challenging the majority of our shots. We just didn't have a lot of space, and their length takes that away from you."
The momentum carried into the second quarter, which Arkansas began on an 8-0 run thanks to two more three-pointers by Spencer, along with an Emrie Ellis layup.
Spencer finished 4 of 8 on three-pointers and made 9 of 11 free throws.
"I was a little worried there for a while we might not even outscore her," Kellogg said. "She was so hot there when she got going. She was special tonight.
SFA trailed 29-18 at halftime. The Razorbacks outscored the Ladyjacks 31-19 in the second half, with 16 of Arkansas' points coming from offensive rebounds.
Arkansas outscored SFA 18-0 in second-chance points and recorded 15 offensive boards. Junior guard Rylee Langerman led the team with 10 rebounds, including four offensive.
"I honestly can't explain it," Arkansas Coach Mike Neighbors said of Langerman's ability to impact the game. "But it's also the kid that we saw when we were recruiting her. I've told y'all before that we weren't going to see her, and she just kept jumping off the page [saying], 'This kid just makes winning plays.' "
Makayla Daniels was second on the team with 11 points, and Jersey Wolfenbarger added nine points off the bench.
Arkansas will host Texas Tech at 7 p.m. on Friday. The Lady Raiders advanced after defeating SMU 61-49.
Discussion
Have a comment on this story? Join the discussion or start a new one on the Forums.