Razorbacks win 3rd WNIT game, set up game at Kansas
By:
Ethan Westerman

Published: Friday, March 24, 2023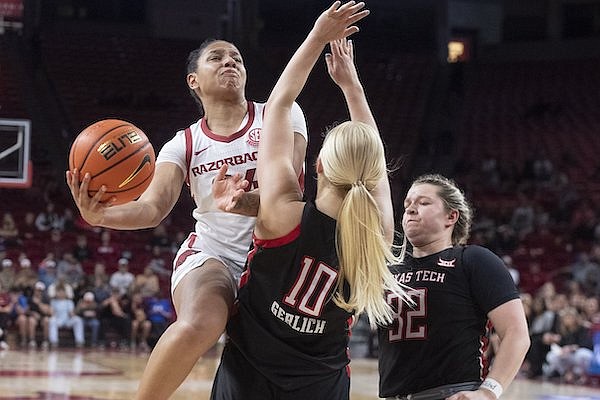 (
J.T. Wampler
)
Arkansas' Chrissy Carr (34) goes up for a shot against Texas Tech defenders Bryn Gerlich (10) and Tatum Vietenheimer during a WNIT game Friday, March 24, 2023, in Fayetteville.
FAYETTEVILLE — Energized by a loud home crowd, the University of Arkansas women's basketball team surged past Texas Tech in the second half and advanced to the WNIT Great 8 with a 71-66 win Friday night inside Walton Arena.
Arkansas (24-12) and Texas Tech were knotted 28-28 at halftime, but a determined Makayla Daniels scored 16 of the Razorbacks' 43 points in the final 20 minutes to power the team to victory. The senior point guard finished with a team-high 21 points to go along with 8 rebounds and 3 assists.
"She got that look in her eye again of, 'The season's not going to end like this. We're not going to go down like this,'" Arkansas coach Mike Neighbors said of Daniels. "We had some really tough timeouts when some of those [Texas Tech] runs were happening, and I thought she was just great. She's really starting to find her voice."
The Lady Raiders (20-15) trailed by eight points late in the third quarter. They drew within 49-47 with 8:26 remaining in the game when Bre'Amber Scott (Little Rock Central) banked in three of her game-high 28 points as the shot clock expired. Daniels raced down the court and countered with a three-pointer of her own, bringing the crowd to its feet.
Texas Tech closed the gap again to 56-54 when Bryn Gerlich rained in a three-pointer from the left wing, but again the Razorbacks responded. Chrissy Carr made back-to-back shots from beyond the arc and Daniels salted the game away down the stretch with five free-throw makes.
"I don't think one person on our team wanted the season to end tonight," Daniels said. "We had a big run at the beginning of the game, then we kind of got on our heels and they came back. But I don't think anyone panicked in that moment. I think we went into halftime, we reset, and I think we just had the mentality that we are not going to lose."
Arkansas roared to a 15-0 lead five minutes into the game, sizzling from the floor and creating havoc on defense. The Lady Raiders responded with a 26-6 run to silence the home crowd and claim their largest lead of the game at 26-21.
The Razorbacks went on a 7-0 run, but Kilah Freelon made a jumper as the first-half buzzer sounded to send the teams to their locker rooms tied.
Neighbors' team rallied behind its defense in the third quarter, holding the Lady Raiders to 20% shooting in the period as they outscored Texas Tech by five points.
"Whenever we were rallying and trying to figure things out whenever they had taken the lead, the first thing that I saw looking down at the bench was people saying, 'We're not losing this game,'" Carr said. "[Daniels] was saying it, [Samara Spencer] was saying it — everyone had that in their mind…When you have teammates like that and you have a team like that, it builds into something special."
The Razorbacks fed off the momentum of an announced crowd of 3,560, a number which felt low to Neighbors, based on his observations.
"It seemed like they counted every other seat," Neighbors said. "It seemed like 7,000. I mean, I, I don't know how that goes, but it certainly was a very, very loud 3,500. It was very influential and impactful. It got us going when we need to."
Arkansas out-rebounded Texas Tech 39-30. Three different players neared double-figure rebounding.
Scott's former Central High School teammate, Erynn Barnum, led the Razorbacks with 10 boards. Saylor Poffenbarger added nine rebounds to go along with Daniels' eight.
Carr scored 17 points for the Razorbacks, 12 of which came on three-pointers, and Samara Spencer scored 10 points.
The Razorbacks will travel to Kansas on Sunday with tipoff set for 2 p.m. The winner will advance to the Fab 4.
Discussion
Have a comment on this story? Join the discussion or start a new one on the Forums.