Lady Vols win SEC Softball Tournament at Bogle Park
By:
Ethan Westerman

Published: Saturday, May 13, 2023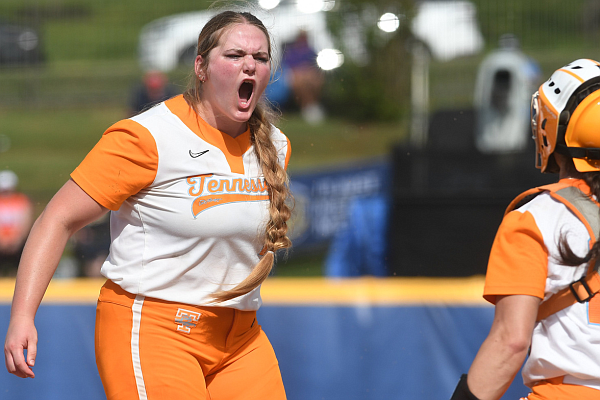 (
J.T. Wampler
)
Tennessee pitcher Ashley Rogers (left) and catcher Giulia Koutsoyanopulos celebrate after defeating South Carolina 3-1 in the SEC Softball Tournament Championship Game on Saturday May 13, 2023, in Fayetteville.
FAYETTEVILLE — Tennessee hoped to celebrate a regular-season championship at Bogle Park two weeks ago.
Arkansas put an end to those plans by handing the Lady Volunteers their lone conference series loss of the season. But on Saturday, Tennessee made sure it got its chance to party in Fayetteville.
The Lady Vols (44-8) defended their regular-season championship by securing the SEC Softball Tournament crown with a 3-1 victory over South Carolina (37-20).
Coach Karen Weekly and Tennessee celebrated with confetti falling and a new piece of hardware as "Rocky Top" echoed through the speakers at Bogle Park.
"Play that tune," said Tennessee center fielder Kiki Milloy, who won tournament MVP honors. "Love it. And let the other SEC teams be sick of it. I love hearing it."
Pitcher Payton Gottshall, who earned her 12th win, added, "You can't play it loud enough."
All 14 of Tennessee's runs during the tournament happened with two outs.
"That's an unbelievable stat," Weekly said. "It does a lot for us. I think what I've been so proud about this team is we've hit some rough patches, but then they rebound. You know, we hit a rough patch against Baylor, and they rebounded in a big way. We came down here against Arkansas two weeks ago [and] didn't play our best.
"They rebounded and they're competing better now than they've competed at any point in time in the season. And I think as a coach, as you're watching your season unfold, that's what you want to see."
The Gamecocks grabbed a 1-0 lead in the first inning when Zoe Laneaux tripled and was sent home with a deep sacrifice fly by Riley Blampied.
It did not take long for Tennessee to get the run back. Left fielder Rylie West shot a two-out single through the left side to score Zaida Puni from third base.
South Carolina ran into a bases-loaded jam in the third inning, and once again the Lady Vols made a team pay with two outs. Jamison Brockenbrough came up clutch for Tennessee with a single down the left-field line to score two runs and put the Lady Vols ahead 3-1.
Offense from there was a struggle for both teams. The clock struck midnight for the Cinderella 10th-seeded Gamecocks when Lady Vols right-handed pitcher Ashely Rogers caught a ball hit sharply at her to end the game.
Rogers entered in the sixth inning and shut down South Carolina. She tossed 2 innings with 1 hit allowed and 3 strikeouts. The Lady Vols' ace is a native of Athens, Tenn., and was playing with her late father in mind.
"She's homegrown," Weekly said, "grew up loving Tennessee. Her father who passed away tragically when she was a junior in high school….Tennessee was always near and dear to his heart. And so I think it just means so much to her. And she's playing for a different reason than a lot of us."
She earned her first save, backing up the performance of Gottshall, who pitched 5 innings with 1 run allowed on 5 hits. Gottshall was the starting pitcher during Tennessee's regular-season finale loss to South Carolina.
"I just knew mentally I was going to have to be better," Gottshall said. "Because they're a really good team....Just knowing that I had to come out even better and really focus on attacking them."
South Carolina defeated seventh-seeded Texas A&M on Wednesday in extra innings after a long weather delay prior to defeating second-seeded Georgia and third-seeded Auburn on consecutive days.
The Gamecocks tried to do the unthinkable and defeat the tournament's top three seeds, but their magic wore out against top-seeded Tennessee.
"I could not be more proud of the South Carolina softball team and the way we performed here this week," South Carolina coach Beverly Smith said. "I think our players know that we can compete and play with anyone in the country and have an expectation to win. So I think for me, that's what I leave this tournament with."
It was the Lady Vols' third tournament title and first since 2011. All three titles have come under Weekly. She now has the fourth-most SEC Tournament championships among coaches.
Tennessee and South Carolina will join teams around the nation awaiting to hear their postseason destiny, which will be announced during the NCAA Tournament selection show Sunday at 6 p.m. on ESPN2.
Discussion
Have a comment on this story? Join the discussion or start a new one on the Forums.