Pittman hits on range of topics on Little Rock stop
By:
Mitchell Gladstone

Published: Thursday, May 18, 2023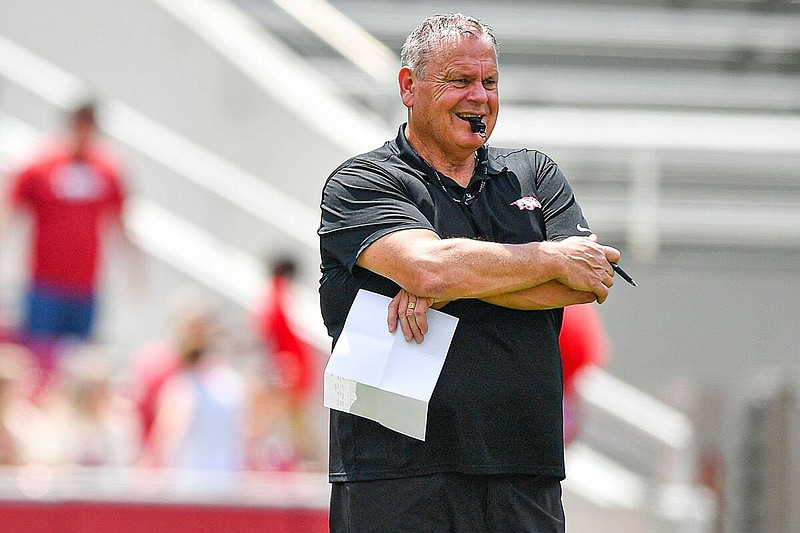 (
Hank Layton
)
Arkansas Coach Sam Pittman said he would prefer the SEC go to a nine-game conference schedule when Oklahoma and Texas move from the Big 12 next summer.
Even in an unfamiliar spot — specifically, parked on Capitol Avenue just outside Fassler Hall in downtown Little Rock — Tusk VI looked unbothered, awaiting fans as they arrived at the ONE Razorback Roadshow's stop in the capital city.
Another big-time Hog soon joined the mascot: football coach Sam Pittman.
Along with Senior Associate Athletic Director Terry Prentice, Pittman spoke and answered questions from fans Wednesday night on the third day of Arkansas' four-day, statewide bus tour.
The roadshow, which began Monday in Harrison and Batesville, helped with tornado relief in Wynne on Tuesday before visiting Memphis on Tuesday night. It continued on to Marianna on Wednesday afternoon before heading to Little Rock. It will wrap up Thursday in Hot Springs and Russellville.
"We see [the fans] in the stands, but we don't ever get to meet face-to-face and visit," Pittman said. "Arkansas is very unique, and the people and the fans are what make it special. It's really nice to come out here and give back to the folks who spend their hard-earned money to see us."
More from WholeHogSports: Our coverage of Arkansas baseball ahead of its series at Vanderbilt
Pittman also provided an update on cornerback Quincey McAdoo, who was involved in a two-car accident on Interstate 49 in northwest Arkansas on May 2. McAdoo was initially taken to Washington Regional Medical Center in Fayetteville for a vertebrae injury, but Pittman said he was recently transferred to a hospital in Little Rock.
The expectation is that the Clarendon native will be released either today or Friday and allowed to continue his recovery at home.
Pittman didn't want to put a return-to-play timeline on McAdoo, saying they'd "figure out the football part of [his recovery] a little later."
"In 16 days, he's improved more than anybody could ever imagine," Pittman added. "He's got work to continue, but again, if anybody can get back healthy and ready to get back out there, it's Quincey."
The big topic of the night, both for Pittman and Prentice, was the impact of name, image and likeness on college athletics.
Prentice said that at least one student-athlete on every Arkansas team has been able to benefit from NIL, and Pittman explained that while he initially viewed the NCAA transfer portal as a good thing, the money involved with NIL has since complicated things for him in recruiting — particularly with transfers.
That said, the Razorbacks have added six players through the portal in the past five days.
"The portal is hard. It's here to stay," Pittman said. "I'm really proud of our coaches. As of right now, I have one scholarship left for next season, it's [been] outstanding for us over the last few days."
The other major talking point in Pittman's conversation with longtime Razorbacks public address announcer Jon Williams was the future of the SEC regular-season schedule.
With Texas and Oklahoma set to join next summer, the league remains in discussions about whether it will stick with an eight-game SEC schedule with just one annual opponent or move to a nine-game slate with three fixed opponents for each team.
Pittman suggested that he prefers nine games, mostly because it would enable Arkansas to potentially play Missouri, Texas and Ole Miss annually while still playing all of the league's other 12 schools home and away within a four-year cycle.
The same would apply with an eight-game slate, which is why Pittman will be open to both options when they're discussed at SEC spring meetings in Destin, Fla., later this month.
"I think that's what the fans want. I know that's what the players want," Pittman said of getting to regularly match up with every team in the SEC.
Discussion
Have a comment on this story? Join the discussion or start a new one on the Forums.