Camenzind shines, Arkansas blanks Harvard in regional opener
By:
Ethan Westerman

Published: Saturday, May 20, 2023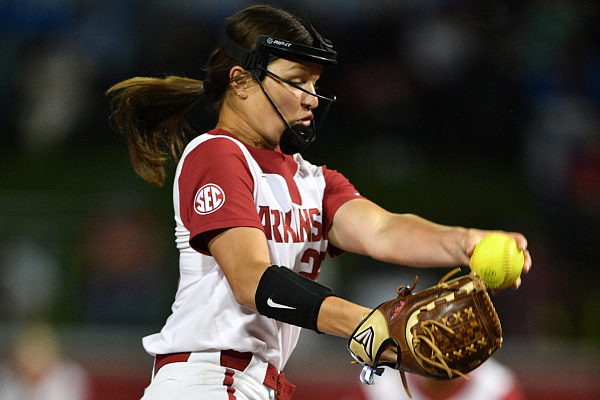 (
Andy Shupe
)
Arkansas starter Hannah Camenzind delivers a pitch Friday, May 19, 2023, during the first inning of play against Harvard in the first round of the NCAA Fayetteville Regional at Bogle Park in Fayetteville.
FAYETTEVILLE — Arkansas freshman pitcher Hannah Camenzind had to wait before she could make her NCAA Tournament debut, but when the Friday night lights at Bogle Park finally shone on her, she delivered.
The left-hander from Valley, Neb., threw a 5-inning, 1-hit shutout and the Razorbacks (39-17) run-ruled Harvard 11-0.
Arkansas (39-17), the No. 11 overall seed in the tournament, advanced to the NCAA Fayetteville Regional winner's bracket against Oregon. They will play Saturday at 2 p.m.
The Razorbacks' game began at 9:42 p.m., due to a lengthy rain delay during the regional's opening game, which Oregon won 5-4 over Notre Dame. The game ended emphatically at 11:34 p.m. with a grand slam by Raigan Kramer to secure a run-rule victory.
It was the first NCAA Tournament game for five of the players in Arkansas' starting lineup, so the dominant performance was a welcomed sight for coach Courtney Deifel.
"There's not a lot of NCAA Tournament experience collectively in the dugout," Deifel said. "So just to see them, they were so loose today and so ready, and they have been all week. And so especially when you're waiting to go, you're just hoping that they keep that same energy and don't get in this lull.
"I was just really proud of the way they came out today. They've been very focused on their mission and so you could see that today in their play, for sure."
Camenzind was told she'd be getting her 10th start a few hours before the game began.
"I found out kind of right when I was walking to the locker room before, right when we came out of the delay," Camenzind said. "Coach D told me I was going to start. I just approached it the same as every other game. I mean, it's no different, just in the tournament. So that was my mindset, just another game."
She faced 17 batters and the lone hit Harvard (29-16-1) produced against her was a double by first baseman Madi Mays in the fourth inning.
"That was huge, and that's what she's done for us," Deifel said. "She's been really steady for the team and just had really, really great outings, and been really consistent. And so it's really cool to hear her say, 'Oh, I just approached it like every other game.' And she did.
"You could see there's not a lot of nerves in her. She just really trusts herself and trusts her team, and when you do that, you can just play very freely. And so we got to see that tonight."
The Razorbacks wasted no time setting the game's tone. They scored five runs in the first inning.
Arkansas loaded the bases with no outs for Cylie Halvorson, who drove a sacrifice fly to center field which scored Reagan Johnson from third base. A four-pitch walk to Hannah Gammill two batters later with the bases jammed scored another run.
Kacie Hoffmann followed with a two-run double, and a fielder's choice RBI grounder by catcher Lauren Camenzind, the twin sister of Hannah, stretched the Razorbacks' lead to 5-0.
Harvard right-hander Anna Reed threw 44 pitches in the first inning. Reed finished with 6 runs allowed on 5 hits against 18 batters faced in 3 innings.
"She's just learning where she needs to be at the start of the game against a team like Arkansas," Harvard coach Jenny Allard said, "who, you know, quite honestly, I thought they were incredibly disciplined. I mean, we had to adjust to their speed pitching, and they had to adjust to our slower speed."
Arkansas third baseman Hannah Gammill extended the Razorbacks' lead in the third inning with a solo home run over the wall in left field to make the score 6-0. It was Gammill's fifth homer.
Lauren Camenzind hit an RBI single in the fifth inning to score Gammill three at-bats before Kramer ended the game with her grand slam.
"I just was going into the at-bat, just staying free," Kramer said. "I mean, there was really no pressure with the lead that we had. So I was just staying free, and then it just happened to go my way."
The victory improved Arkansas' record to 10-0 in regional games played at Bogle Park — all since 2018. Harvard has lost six consecutive NCAA Tournament games.
Arkansas will play Oregon at its home regional for the second year in a row. The Razorbacks defeated the Ducks twice last year.
"We've just been prepping and getting as familiar as we can," Deifel said of preparing for Oregon. "You know, we did get to see them last year, so we have a little taste of what they do.
"I think they're an even stronger version than what we saw last year."
Arkansas defeated an Ivy League team 11-0 in five innings of a regional opener for the second consecutive season. The Razorbacks defeated Princeton 11-0 in 2022 before eliminating the Ducks.
OREGON 5, NOTRE DAME 4
Oregon (36-15) scored all its runs with two outs in the second inning, and the Ducks withstood a late Notre Dame rally to claim a victory.
The game began at 4 p.m. and ended at 9:06 p.m. due to a rain delay which paused action for 2 hours, 24 minutes.
Notre Dame designated player Lexi Orozco put the Fighting Irish (29-18-1) ahead in the first inning with an RBI single. The damage could have been worse, but Oregon center fielder made a highlight-worthy grab over the wall in center field to rob what would have been a two-run home run.
The catch proved to be big. Oregon third baseman Tehya Bird hit a two-out, three-run home run in the second inning. Kai Luschar followed two at-bats later with an RBI triple, and Allee Bunker extended the lead to 5-1 with a run-scoring single.
Rain came down heavy during the fourth inning and the game was delayed at 5:36 p.m. Play resumed at 8 p.m.
Karina Gaskins got Notre Dame back on the board in the sixth inning with an RBI double down the third-base line. The Fighting Irish scored two more runs four at-bats later when Jane Kronenberger pinch hit a single through the right side of the field, which brought the score to 5-4.
Oregon escaped the inning with a runner stranded on first base when Notre Dame shortstop Anna Holloway grounded out to the pitcher. Ducks reliever Morgan Scott closed the deal with no runs or hits allowed in 1 1/3 innings to claim her seventh save,
Stevie Hansen started for Oregon and earned her 19th victory. She allowed 2 runs on 5 hits in 5 innings.
Notre Dame and Harvard are set to play in an elimination game Saturday at 4:30 p.m.
The winner of that game will face the Oregon-Arkansas loser in another elimination game at 7 p.m.
Discussion
Have a comment on this story? Join the discussion or start a new one on the Forums.