'It's meant everything': Delce ends career as Arkansas great
By:
Ethan Westerman

Published: Sunday, May 21, 2023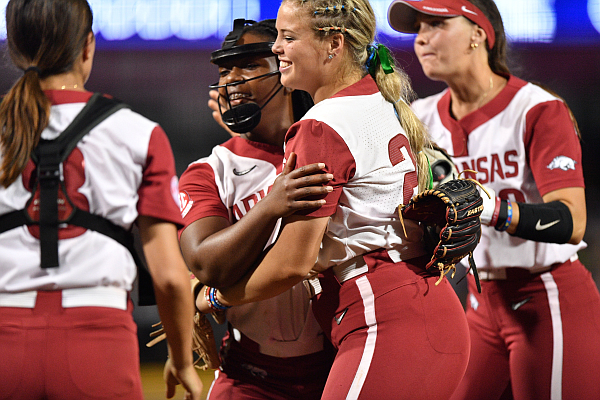 (
Andy Shupe
)
Arkansas starting pitcher Chenise Delce celebrates Thursday, May 11, 2023, with third baseman Hannah Gammill during the seventh inning of the Razorbacks' 3-2, 9-inning loss to Alabama in Fayetteville.
FAYETTEVILLE — When Outkast's "So Fresh, So Clean" echoed through the speakers Sunday at Bogle Park, it alerted a crowd of 2,853 that it would get a final chance to watch one of the best pitchers in Arkansas softball history take the circle.
Following a day when Chenise Delce threw 156 pitches and kept the Razorbacks' season alive with a shutout of Notre Dame, her warmup music signaled a third consecutive start. By the time she exited from the game in the fourth inning after throwing 60 pitches, a standing ovation was given.
An exhausted Delce left the field after doing something indicative of her two-year career at Arkansas. She never backed down from a challenge when her team's back was against the wall.
The soft-spoken native of Oklahoma City revealed after the game she fell back in love with softball while in Fayetteville. Delce nearly gave up on the sport prior to arriving in 2021.
"It's meant everything," Delce said of her Arkansas career. "I went from not believing in myself and basically wanting to give up on softball to finding that love for softball again — with my coaches and my teammates and just the whole Arkansas environment. My whole career here has been great for me mentally and I can't thank them enough."
Not only did she rekindle her affection for softball with the Razorbacks, but was responsible for some of the program's most iconic moments.
When Arkansas won its first SEC Tournament championship in 2022, it was Delce who tossed a complete-game shutout. Two weeks later, she pitched a complete game and led the Razorbacks to the first super regional victory in program history.
Delce walked off the field in Tuscaloosa, Ala., on March 20 after 10 innings and a career-high 172 pitches. She had just defeated the Crimson Tide in a rubber match, marking the first road series victory for Arkansas over the Crimson Tide.
Two months later, Delce threw 165 pitches against Alabama in the SEC Tournament and earned national attention for her gutsy performance despite a loss. She received a similar home applause exiting that game to the one she got Sunday in her final college game.
"They definitely helped me like realize that people do believe in me still," Delce said of Arkansas' fans, "even when things don't go our way. I feel their love for everyone despite the score meant a lot not only to me, but to everyone. It was great having the fan base that we did. They were absolutely great — crucial to how we did this season."
Part of the reason for her seemingly out-of-nowhere emergence in 2022 was the ability to learn. When staff asked her to try adding a drop ball to her arsenal, it took one practice for her to develop one of the most dominant pitches the SEC has seen in recent history.
Following the victory over Notre Dame, Fighting Irish coach Deanna Gumpf said her team made remarks that it was like going against a machine.
Delce ripped through the league schedule in 2022 and earned the conference's pitcher of the year honors. Her encore performance in 2023 led to an SEC first-team designation, and she became the first Razorback to land on that list two consecutive seasons.
She joined Mary Haff, her co-ace counterpart in 2022, as the second Arkansas player to be a two-time first-team selection in general.
Delce was seen by fans as a calm, cool and collected pitcher on the field. Her steady demeanor is something teammates also valued, along with her affection shown through actions.
"She's just been a big blessing to our team because she just loves everyone that she's around," Arkansas third baseman Hannah Gammill said. "And she just has a fight about anyone that she loves. And even people who do her wrong, she forgives them."
When asked what it has been like having Delce on her team for two seasons, Arkansas coach Courtney Deifel got emotional.
"She's been an absolute joy to coach," Deifel said while fighting through tears Sunday. "Just how she embraced our program, embraced me as her coach, and [was] so coachable and completely bought in, all from day one.
"I tell her all the time, I'm like, 'I don't know what I'm going to do without you.' Because she was just a joy every day. She came to work [and] she was willing to do anything. She is so selfless and so consistent. If you could make a pitcher, she's exactly who you'd want to make. I'm just really proud of her as a player and even more proud of who she is as a person."
Discussion
Have a comment on this story? Join the discussion or start a new one on the Forums.