Arkansas has baseball's toughest regional field
By: Eric Olson, The Associated Press
Published: Tuesday, May 30, 2023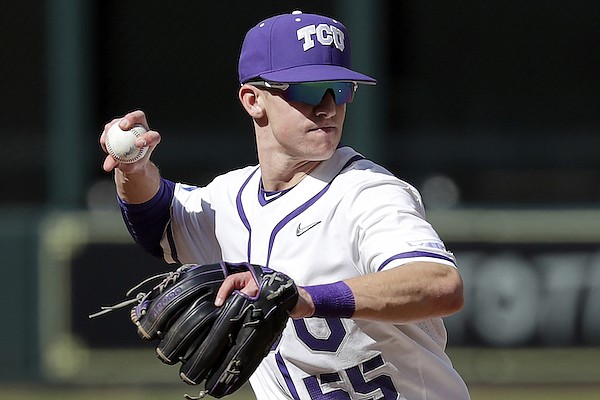 Texas Christian infielder Brayden Taylor during an NCAA baseball game against Louisville on Saturday, March 4, 2023, in Houston. (AP Photo/Michael Wyke).
The NCAA baseball tournament opens Friday with play in 16 double-elimination regionals.
Regional winners advance to best-of-three super regionals next week, and the final eight go to the College World Series in Omaha, Nebraska, beginning June 16.
Some of the top storylines:
TOUGHEST REGIONAL
The Arkansas-hosted Fayetteville Regional gets a slight edge over the Oklahoma State-hosted Stillwater Regional.
The No. 3 national seed Razorbacks (41-16) are grouped with TCU (37-22), Arizona (33-24) and Santa Clara (35-18) — all of which are on impressive rolls.
TCU beat Arkansas 18-6 at a neutral site on opening weekend and scored 48 runs while sweeping four games in the Big 12 Tournament. Arizona knocked off Pac-12 regular-season champion Stanford 14-7 in the conference tournament and has won seven of its past nine, with Chase Davis and Kiko Romero combining for eight homers and 40 RBIs during the stretch. Santa Clara has outscored opponents 85-26 during its current eight-game win streak.
WHO'S HOT
Oral Roberts (46-11) has won 18 straight, the longest active win streak in the country, and 36 of 39. The Golden Eagles won't be an easy out as the No. 4 regional seed in Stillwater. They won both regular-season meetings with host Oklahoma State, including 8-5 in Stillwater in April.
Clemson (43-17) has won 16 straight for its longest win streak since 2006, and 21 of its past 22.
WHO'S NOT
South Carolina (39-19) is a regional host despite losing 13 of 18 since its 34-6 start. The Gamecocks were rewarded for eight early wins over top-50 RPI opponents and cut slack by the selection committee for dealing with significant injuries to three infielders.
West Virginia (39-18) has the longest losing streak entering the tournament, at five games. Duke (35-21) has lost four straight. Indiana (41-18) has lost four of its past six and LSU (43-15) three of four.
DOMINANT DEACONS
No. 1 national seed Wake Forest (47-10) leads the nation in wins, ERA (2.82) and shutouts (nine) and is seventh in on-base percentage (.428), eighth in runs per game (8.9) and tied for ninth in homers (110).
Projected top-10 draft pick Rhett Lowder leads the nation in pitching wins (13), Sean Sullivan averages better than 14 strikeouts per nine innings and Brock Wilken (27) and Nick Kurtz (23) have combined for 50 homers.
STILL WAITING
The No. 1 national seed has not won the championship since Miami in 1999, the first year of the current tournament format.
East Carolina (45-17) has made 32 previous appearances and never reached the College World Series, the longest streak of its kind. The Pirates are in the field for the seventh time in coach Cliff Godwin's eight seasons.
Clemson has never won a national championship, or finished as runner-up, in 44 previous appearances.
IT'S BEEN A WHILE
There are no teams making tournament debuts for the first since 2001, but three are in for the first time in the 21st century — Penn (1995), Santa Clara (1997) and Nicholls (1998).
HE DOES IT ALL
Florida's Jac Caglianone, the front-runner for John Olerud Two-Way Player of the Year, is listed as the No. 11 prospect for the 2024 amateur draft. He's batting .349 with a program-record 28 homers to go with 65 runs and 76 RBIs. The left-hander has been the Gators' No. 3 starter all season and is 6-3 with a 4.14 ERA and 74 strikeouts in 63 innings.
REPPING THE WEST AGAIN
The only West Coast regional is at Stanford (38-16), the only program to have hosted in six straight tournaments. The Cardinal are coming off a second straight Pac-12 regular-season championship and going for a third consecutive trip to the CWS.
UNDER THE RADAR
Iowa (42-14) finished third in the Big Ten, the weakest of the Power 5 conferences, and was runner-up to Maryland in the conference tournament.
But the Hawkeyes, No. 32 in the RPI, are capable of winning a Terre Haute Regional that includes Indiana State (42-15), North Carolina (35-22) and Wright State (39-21).
Iowa has a top-15 pitching staff, strong defense and an offense averaging better than eight runs per game. The Hawks also have wins over LSU and Indiana State.
RIDING THE WAVE
As strong as Tulane's baseball history is, this wasn't supposed to be a year the Green Wave made the tournament. At 19-40, Tulane has the most losses of any participant in history.
The Green Wave were 15-39 in the regular season, but earned the American Athletic Conference's automatic bid by becoming the lowest seed (No. 7) to win the league tournament.
"It's another opportunity to shock the world," first-year coach Jay Uhlman said. "All of us in this room know the struggles of the team this year and how that's gone in terms of the win-loss.
"Not of their mentality or their will or their work ethic or those kinds of things. Just the game and the results weren't kind to us for so long, but they never faltered, they never wavered, they believed and they prepared with purpose and intent."
Discussion
Have a comment on this story? Join the discussion or start a new one on the Forums.