Razorbacks host Fighting Irish in round of 16
Published: Saturday, November 20, 2021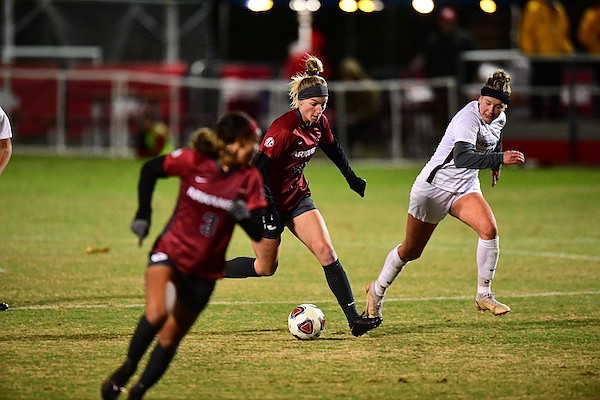 ( Gunnar Rathbun, University of Arkansas Razorback Athletics )
Arkansas defender Haley VanFossen pushes the ball upfield during an NCAA Tournament game against Virginia Tech on Friday, Nov. 19, 2021, in Fayetteville.
FAYETTEVILLE — Arkansas has only been this far in the NCAA Tournament once before.
The Razorbacks will host Notre Dame on Sunday at 4:30 p.m. in the Sweet 16 of the NCAA Tournament at Razorback Field. With a win, Arkansas (18-4-0) will advance to the national quarterfinals for the first time.
It is the Razorbacks' first appearance in the round of 16 since 2013 when they lost a penalty shootout to Duke.
Arkansas shut out Virginia Tech 3-0 in the second round Friday night after opening the tournament with a 5-1 win against Northwestern (La.) State.
Notre Dame's path to the Sweet 16 includes a 4-0 win against Southern Illinois-Edwardsville and a penalty shootout victory against Purdue in Fayetteville.
Arkansas is the No. 2 seed in its quadrant of the bracket and Notre Dame (14-5-2) is the No. 3 seed.
"They are a fantastic team," Arkansas coach Colby Hale said of Notre Dame. "We know it is going to be a huge test."
More from WholeHogSports: How to watch Arkansas vs. Notre Dame
Looking at shared opponents, both teams suffered losses at North Carolina and Duke earlier in the season. Notre Dame lost 3-2 in overtime at Missouri on Sept. 5 and the Razorbacks defeated the Tigers 6-1 in Fayetteville on Oct. 15.
Arkansas is undefeated at Razorback Field in 10 games this season and have a 34-3-2 record at home since 2018. Opposing coaches acknowledged the impact the crowd had on the first two tournament matches won by the Razorbacks.
Arkansas has drawn more than 1,000 fans in each tournament game this year. Notre Dame has only played two games this season with more than 900 spectators — at North Carolina and Virginia — and lost both.
"You have to put in the work to earn the home games and we have done that," Hale said.
The winner of Sunday's matchup will play either Rutgers or TCU is the quarterfinals. Rutgers is the No. 1 seed in the bracket and would host if it beats TCU on Sunday afternoon in Piscataway, N.J.
The Arkansas-Notre Dame winner will host the quarterfinals if TCU beats Rutgers. The Horned Frogs are the No. 4 seed in the bracket.
Discussion
Have a comment on this story? Join the discussion or start a new one on the Forums.