Deifel: UA softball not overlooking hard-playing Harvard
By:
Ethan Westerman

Published: Thursday, May 18, 2023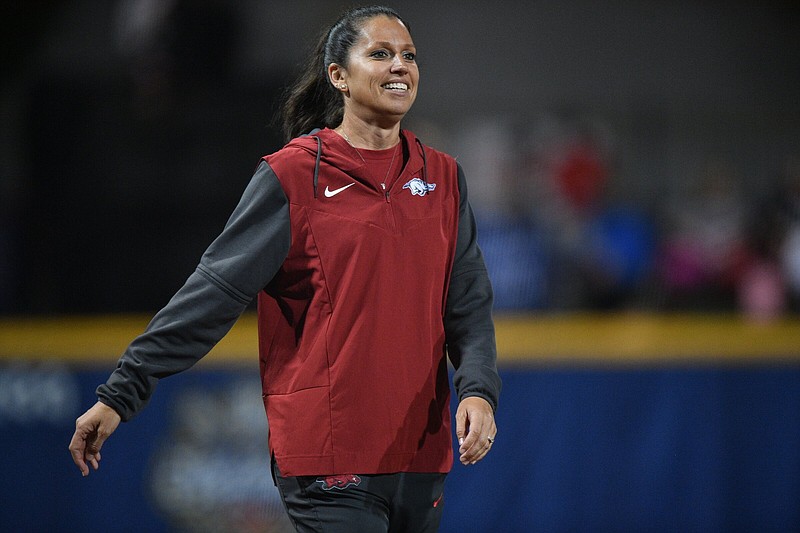 (Andy Shupe / Andy Shupe )
Arkansas coach Courtney Deifel speaks to her players Thursday, May 11, 2023, during the fourth inning of the Razorbacks' 3-2, 9-inning loss to Alabama in the SEC Softball Tournament at Bogle Park in Fayetteville. Visit nwaonline.com/photo for today's photo gallery. .(NWA Democrat-Gazette/Andy Shupe)
FAYETTEVILLE — In recent years, Bogle Park has become synonymous with postseason softball.
Prior to 2018, the Razorbacks' home stadium had never been an NCAA regional host site. Since then, it has been a rarity for the road to Oklahoma City and the Women's College World Series to not run through Fayetteville.
Arkansas coach Courtney Deifel and her No. 11 national seed Razorbacks (38-17) are scheduled to begin their third consecutive NCAA Fayetteville Regional with a game against No. 4 seed Harvard (29-15-1) at 6:30 p.m. Friday, weather permitting.
It is the second time in as many years the Ivy League champion has been placed in the Fayetteville Regional. Arkansas defeated Princeton 11-0 in its NCAA Tournament opener last season.
Harvard junior pitcher Anna Reed said Bogle Park is "really nice" and that the Crimson are trying to not let the moment get too big.
"I think we're trying to approach it like any other game, any other stadium," Reed said. "That's obviously going to be different when we get out there. But I think we're all really excited just to be able to soak in the moment and be here. We missed out on the opportunity last year, so it feels right that we're back here again."
More from WholeHogSports: Johnson serves as the "spark plug" for Arkansas softball
Arkansas will be playing in front of its home fans for a second consecutive week. The Razorbacks hosted the SEC Tournament at Bogle Park and were eliminated by Alabama last Thursday in their first game.
Designated player Rylin Hedgecock, who is sixth in the nation with 20 home runs, said the team's previous tournament experiences help push away nerves, and that the Razorbacks are happy to be playing at home.
"I feel like it just makes us more comfortable," Hedgecock said. "Obviously it's nice that we get to play at home again for this regional. I mean, we have great fans that just give us even more energy. We got the experience last year, so I feel like that'll ease some of the nerves that we might have."
Deifel said her team is not overlooking Harvard, and that it is the time of year when every opponent must be taken seriously.
"They play the game really hard," Deifel added of the Crimson. "They fight and they're playing their best softball coming off their tournament championship. It's going to be a tough challenge. They all are."
Harvard coach Jenny Allard, in her 27th year coaching the Crimson and a National Fastpitch Coaches Association hall of famer, mentioned two things her team must do: be prepared for faster pitching and respect the Razorbacks.
"We had hitting practice [the day after being selected] just to really start on machines," Allard said. "Cranking up the speed, getting their hands quicker. I think that's one big part of it.
"I think the second is respecting the level that [Arkansas] plays at day-in and day-out in the SEC. Respecting their bats, respecting their stats, respecting what they do. I told [my team] when we ended the workout today, 'See all these stands? You're going to have 10% [rooting for Harvard and] 90% is going to be rooting for them. Right now, it's empty, it's quiet. You've got to be ready for a lot of energy.'"
More from WholeHogSports: The latest Razorbacks baseball news and coverage
When asked for specific things the Razorbacks do well, Allard began by pointing to strategy. She recalled a conversation led by Arkansas assistant coach Matt Meuchel, who is heralded as one of the game's top analytical minds, at an event she attended.
"They can swing," Allard said. "I heard their assistant coach Matt talk at the NFCA convention and talking about stats. And, you know, he's just, like, amazing in what he does with data and what they use in terms of lineup and different things."
Respect for the opposing coaching staff is mutual.
"Obviously she's a hall of famer. She's legendary," Deifel said of Allard. "She continually just has teams that are really well-coached, that fight, that mimic her personality, and so they are prepared. When you watch how they play, they play the game the right way – as Jenny's teams always do."
No. 2 seed Oregon (35-15) has made the roughly 1,600-mile trip to Fayetteville for a second consecutive year. The Ducks were also the second-seeded team in the 2022 regional and were eliminated by Arkansas.
Oregon and No. 3 seed Notre Dame (29-17-1) are scheduled to open the weekend with a game at 4 p.m. on Friday.
Discussion
Have a comment on this story? Join the discussion or start a new one on the Forums.