Arkansas vs. Harvard at the Fayetteville Regional: How to watch, forecast, team comparisons
By:
Ethan Westerman

Published: Friday, May 19, 2023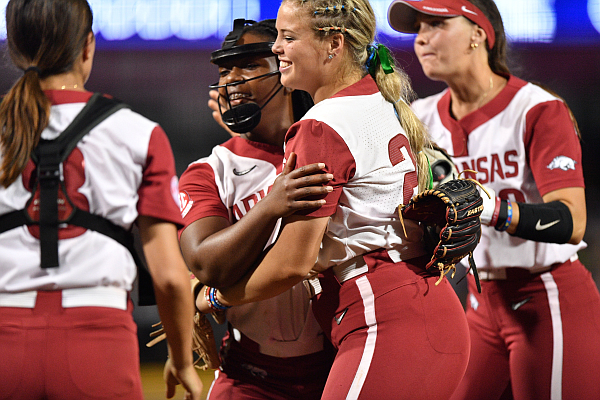 (
Andy Shupe
)
Arkansas starting pitcher Chenise Delce celebrates Thursday, May 11, 2023, with third baseman Hannah Gammill during the seventh inning of the Razorbacks' 3-2, 9-inning loss to Alabama in Fayetteville.
SCHEDULED GAME TIME Friday, 6:30 p.m.
WHERE Bogle Park, Fayetteville
RECORDS Harvard 29-15-1; Arkansas 38-17
LAST 10 Harvard 7-3; Arkansas 5-5
STREAK Harvard won 1; Arkansas lost 3
COACHES Arkansas: Courtney Deifel — 276-145 in eighth season at Arkansas and 303-172 in ninth season overall; Harvard: Jenny Allard — 688-516-4 in 27th season at Harvard and overall.
SERIES Arkansas leads 1-0
LAST MEETING Arkansas defeated Harvard 9-4 on Feb. 23, 2014, at the Florida Gulf Coast Tournament in Ft. Myers, Fla.
STREAMING The game will be streamed by ESPN-Plus and can be accessed on WatchESPN.com and via the ESPN app (subscription required).
ANNOUNCERS Drew Carter (play-by-play) and Jenny Dalton-Hill (analyst)
FORECAST According to the National Weather Service, there will be showers and thunderstorms Friday in Fayetteville, with a high near 75 degrees. Variable winds are expected to become south 5 to 10 mph in the afternoon, with a 90% chance of precipitation. Rainfall amounts between a quarter and half-inch are possible.
PREGAME READING
• Deifel: Razorbacks not overlooking hard-playing Harvard
• Johnson the 'spark plug' for Arkansas softball
TEAM COMPARISONS
ERA: Harvard 2.64; Arkansas 2.18
Runs Scored Per Game: Harvard 5; Arkansas 5.76
Batting Average: Harvard .313; Arkansas .276
Opponent Batting Average: Harvard .231; Arkansas .203
Slugging Percentage: Harvard .389; Arkansas .472
On-Base Percentage: Harvard .380; Arkansas .374
Fielding Percentage: Harvard .967; Arkansas .971
NOTABLE Arkansas is the No. 11 national seed and hosting a regional for a third consecutive season…. Harvard is the No. 4 seed in the regional.... Arkansas is 9-0 all-time in NCAA Fayetteville Regional games…. Harvard last competed in the NCAA Tournament in 2019, when it went 0-2…. The Razorbacks have made the NCAA Tournament each season it has been held since 2017…. Bogle Park finished the regular season with the second-highest accumulative attendance (85,580) in Division I.... Arkansas right-handed pitcher Chenise Delce earned All-SEC first-team honors for a second consecutive year…. Harvard right-hander Riley Flynn (8-1, 2.66 ERA) was named the Ivy League rookie of the year…. Arkansas designated player Rylin Hedgecock is sixth nationally with 20 home runs…. Harvard has faced one other SEC team in the NCAA Tournament before. The Crimson lost to Georgia 6-2 in 2018…. Arkansas freshman center fielder Reagan Johnson has 73 hits, which is eight shy of the program single-season record…. Johnson is one of 10 finalists for the TUCCI/NFCA freshman of the year award…. Arkansas is 21-9 in games played at Bogle Park this year…. Harvard has played one game against a Power Five opponent, a 1-0 loss to Syracuse on March 11.
Discussion
Have a comment on this story? Join the discussion or start a new one on the Forums.