Arkansas vs. Oregon at the Fayetteville Regional: How to watch, forecast, team comparisons
By:
Ethan Westerman

Published: Saturday, May 20, 2023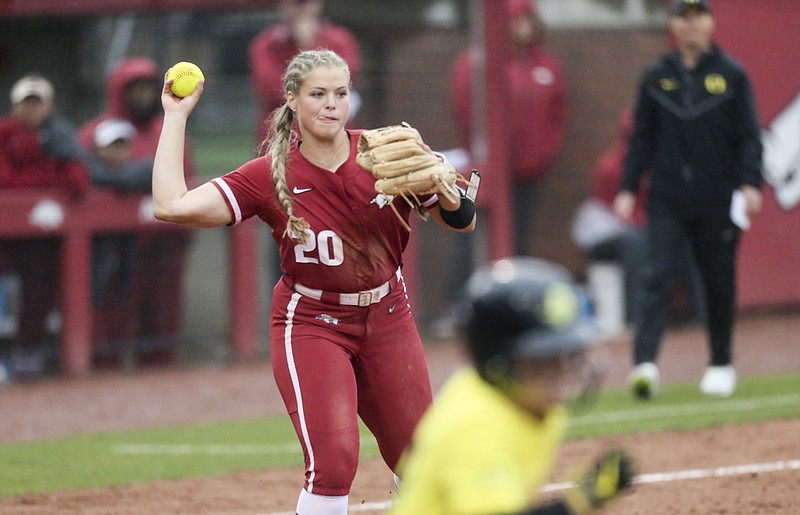 (
Charlie Kaijo
)
Arkansas Hannah Gammill (20) forces an out at first, Saturday, May 21, 2022, during the fifth inning against Oregon in the 2022 NCAA Fayetteville Regional at Bogle Park.
SCHEDULED GAME TIME Saturday, 2 p.m.
WHERE Bogle Park, Fayetteville
RECORDS Oregon 36-15; Arkansas 39-17
LAST 10 Oregon 6-4; Arkansas 5-5
STREAK Oregon won 1; Arkansas won 1
COACHES Arkansas: Courtney Deifel — 277-145 in eighth season at Arkansas and 304-172 in ninth season overall; Oregon: Melyssa Lombardi — 153-83 in fifth season at Oregon and overall.
SERIES Arkansas leads 5-3
LAST MEETING Arkansas defeated Oregon 9-3 on May 22, 2022, in the 2022 NCAA Fayetteville Regional championship.
TELEVISION The game will be televised by ESPN2 and can be accessed on WatchESPN.com and via the ESPN app (carrier login required).
ANNOUNCERS Drew Carter (play-by-play) and Jenny Dalton-Hill (analyst)
FORECAST According to the National Weather Service, it will be sunny with a high near 71 degrees and a north wind around 10 mph on Saturday in Fayettville.
• Camenzind shines, Arkansas blanks Harvard in regional opener
• Top quotes from Fayetteville Regional media availability
TEAM COMPARISONS
ERA: Oregon 2.61; Arkansas 2.15
Runs Scored Per Game: Oregon 5.75; Arkansas 5.86
Batting Average: Oregon .307; Arkansas .277
Opponent Batting Average: Oregon .244; Arkansas .201
Slugging Percentage: Oregon .499; Arkansas .475
On-Base Percentage: Oregon .376; Arkansas .377
Fielding Percentage: Oregon .968; Arkansas .971
NOTABLE Arkansas is the No. 11 national seed and hosting a regional for a third consecutive season…. Arkansas is 10-0 all-time in NCAA Fayetteville Regional games…. The Razorbacks defeated Oregon twice to win the 2022 NCAA Fayetteville Regional…. Arkansas has made the NCAA Tournament each season it has been held since 2017…. Oregon defeated Notre Dame 5-4 in the regional opener Friday…. Arkansas defeated Harvard 11-0 in a five-inning run-rule…. Bogle Park finished the regular season with the second-highest accumulative attendance (85,580) in Division I.... Arkansas right-handed pitcher Chenise Delce earned All-SEC first team honors for a second consecutive year…. Oregon second baseman Allee Bunker has a team-best .395 batting average…. Arkansas designated player Rylin Hedgecock is sixth nationally with 20 home runs…. It will be the Razorbacks' sixth game since 2021 in the NCAA Tournament against a Pac-12 opponent. Arkansas has faced Stanford once, Arizona twice and Oregon three times…. Oregon pitcher Morgan Scott was tied for the Pac-12 regular season lead in saves, and she picked up another (her seventh) during the Ducks' victory over Notre Dame …. The winner will advance to Sunday's regional finals, while the loser will await the Harvard-Notre Dame winner for a scheduled 7 p.m. elimination game today…. Arkansas is 22-9 in games played at Bogle Park this year…. Oregon is 3-0 against SEC opponents, with victories over Ole Miss, Florida and Missouri.
Discussion
Have a comment on this story? Join the discussion or start a new one on the Forums.